The 'New Zealand Violin Olympics' is back with its first edition since 2019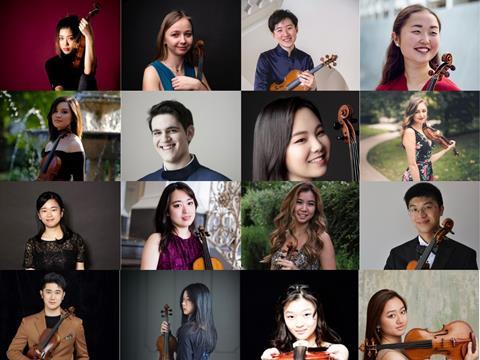 Read more news articles here
16 quarter-finalists have been whittled down from 160 violin applicants between the ages of 18 and 28, for the opportunity to compete at the 11th edition of the Michael Hill International Violin Competition (MHIVC) in New Zealand. From 2 to 10 June 2023, the selected contestants will play for the chance to win the top prize of NZ$40,000, a recording contract with the Atoll label, and a multi-centre Winners Tour with Chamber Music New Zealand, as well as a special prize of a three-year loan of a fine violin by Rare Violins of New York.
The 16 contestants were selected by a panel comprising Andrew Beer, Bella Hristova, Wilma Smith, Robin Wilson and Vesa-Matti Leppänen, who carefully assessed each applicant's video during a five-day process.
'This is my fourth time being a part of the selection panel for the MHIVC and we've never seen so many strong applicants,' said Andrew Beer, concertmaster of the Auckland Philharmonia Orchestra. 'The future of violin playing is bright and this June's competition is going to be phenomenal.'
The international judging panel will include past competition winners violinists Bella Hristova, Ning Feng and Natalia Lomeiko; plus violinists Wilma Smith, James Ehnes, Anthony Marwood and pianist Piers Lane.
The 16 quarterfinalists are:
Jiayi Chen, 26 – China/Austria
Gabrielle Després, 22 – Canada/USA
Kingston Ho, 21 – USA
Seonglan Hong, 21 – South Korea
Yeyeong Jin, 19 – South Korea/USA
Lorenz Karls, 21 – Sweden/Austria
Tianyu Liu, 23 – China/USA
Julia Mirzoev, 26 – Canada
Audrey Park, 20 – USA
Eva Rabchevska, 26 – Ukraine/Germany
Aoi Saito, 25 – Japan/Germany
Hani Song, 25 – Switzerland/Germany
Karen Su, 24 – USA/Belgium
Yuri Tanaka, 17 – Japan/Germany
Ayaka Uchio, 25 – Japan/Germany
Claire Wells, 21 – USA/Germany
The competition will be held from 2 to 10 June 2023 with early rounds in Queenstown, followed by later rounds in Auckland. Usually held every two years, the competition has been postponed because of New Zealand's strict closure of international borders due to Covid-19. Previous competition winners include Anna Im (2019), Ioana Cristina Goicea (2017) and Suyeon Kang (2015).
It is supported by Hill Family Foundation for Arts and Music, and major supporters Michael Hill International, Craigs Investment Partners and Chiron Group.