The 24-year-old performed Tchaikovsky's Violin Concerto in the final round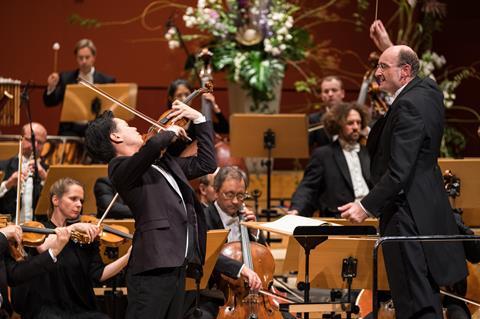 Timothy Chooi has won the Joseph Joachim International Violin Competition in Hannover, Germany. The 24-year-old Canadian receives €50,000 and the three-year loan of a c.1765 Guadagnini violin, as well as concert engagements and a CD recording with Naxos. Currently completing a master's degree with Catherine Cho at the Juilliard School, Chooi is a former student at the Curtis Institute of Music, and has studied with Pinchas Zukerman, Ida Kavafian and Patinka Kopec. Earlier this year he received the Verbier Festival Academy's Yves Paternot Award, worth c.$10,000, and has also won prizes at the 2014 Menuhin and 2015 Michael Hill competitions.
Second prize and €30,000 went to 19-year-old Dmytro Udovychenko. The Ukrainian, who is currently studying with professor Boris Garlitsky at the Folkwang Universität der Künste in Essen, Germany, also received the audience prize and the JJV Community award, each worth €2,000. Udovychenko's previous awards include the Grand Prix at the 2016 Leonid Kogan Violin and Cello Competition in Brussels, and second prize at the 2017 International Jascha Heifetz Competition for Violinists in Vilnius.
Franco-Dutch violinist Cosima Soulez Larivière took the €20,000 third prize. The 21-year-old, who is currently studying with Krzysztof Wegrzyn at the Hochschule für Musik, Hannover, also won €3,000 for the best interpretation of the commissioned work, 'Hauch', by the Berlin-based British composer Rebecca Saunders. Last year Soulez Larivière took the first prize in the inaugural Bartók World Competition in Budapest.
Fourth, fifth and sixth prizes were taken by Rennosuke Fukuda, Leonard Fu and Youjin Lee respectively. Each candidate received €8,000.
In the final round, each candidate was required to perform a full violin concerto with the NDR Radio Philharmonic Orchestra conducted by Andrew Manze.
The six finalists' choices were:
Timothy Chooi – Tchaikovsky Violin Concerto
Dmytro Udovychenko – Sibelius Violin Concerto
Cosima Soulez Larivière – Sibelius Violin Concerto
Rennosuke Fukuda – Tchaikovsky Violin Concerto
Leonard Fu – Mendelssohn Violin Concerto
Youjin Lee – Tchaikovsky Violin Concerto
The jurors for the 2018 competition included its founder Krzysztof Wegrzyn, along with Salvatore Accardo (Rome), Andrej Bielow (Graz/Düsseldorf), Tanja Dorn (Hanover), Masafumi Hori (Tokyo), Kyung Sun Lee (Seoul), Matthias Ilkenhans (Hanover), Silvia Marcovici (Graz), Qian Zhou (Singapore), Ulf Schneider (Hanover), Vilmos Szabadi (Budapest) and Pavel Vernikov (Vienna/Lausanne).