The Chinese violist, who has trained in the US and Spain, takes home €22,000 in prize money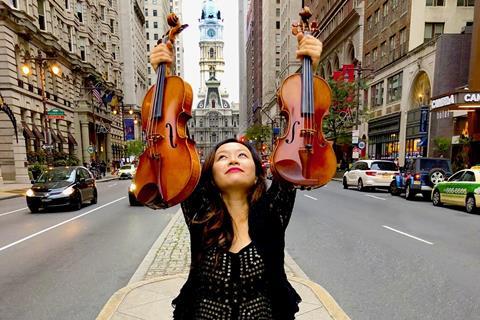 Luosha Fang has been announced as the winner of the viola section of the Vienna Classic Strings competition. The competition is running alongside a cello and violin event, the finals of which take place on 17 and 18 May respectively.
Fang performed Bartók's Viola Concerto in the final with the Slovak Radio Symphony Orchestra to win the €20,000 first prize, plus a further €2,000 special prize for her performance of a commissioned work by Alexey Shor.
James Dong (Australia/Austria) took second place and Aleksandr Tatarinov (Russia) took third.
The jury comprised Irina von Bismarck, Wolfgang Klos, Lilach Levanon, Sheng Li, Maxim Rysanov, Lars Anders Tomter and Alexander Zemtsov.
Luosha Fang previously won first prize in the 2018 Tokyo International Viola Competition, and has been appointed as a violin and viola instructor at the Bard College Consevatory of Music starting in autumn 2019.
She began her musical education as a violinist in China before moving to the US at 16 on a scholarship to the Bard College, where she studied with Ida Kavafian and Arnold Steinhardt. She went on to the Curtis Institute as a violin student of Kavafian and Shmuel Ashkenasi, also beginning viola studies with Steven Tenenbom.
She went on to postgraduate studies at the Escuela Superior de Música Reina Sofía in Madrid as a viola student of Nobuko Imai.
The Vienna Classic Strings cello finalists are:
Kokas Dora (Hungary)
Koshkina Anna (Russia/Germany)
Baik Seungyeon (South Korea)
Mukhametdinov Kamil (Russia)
Sohn Grace (Canada/Germany)
Zhang Zhiyu (China/Austria)
The violin semi-finalists are:
Yumiba Yumiko (Japan/Germany)
Zayranov Martin (Bulgaria)
Zhang Jingzhi (China/Italy)
Cardaropoli Gennaro (Italy)
Chang Shan-Hsin (Taiwan/France)
Gelman Victoria (Israel/Germany)
Harutyunyan Feliks (Armenia)
Ilarionova Zornitsa (Bulgaria)
Karimbayeva Nuriya (Kazakhstan)
Kim Onyou (South Korea/Germany)
Kropfitsch Paul (Austria)
Larina Anastasiia (Russia)
Lee Alice (Canada/Switzerland)
Lee Miyeon (South Korea/Germany)
Martinez Ekhi (Spain)
Schreiber Johanna (Germany)
Seo Yoo Min (South Korea)
Sukhobrusov Sergei (Russia)
Sukhova Kristina (Russia)
Karmenova Meruert (Kazakhstan/Russia)