The bus will spend two weeks bringing music to children across London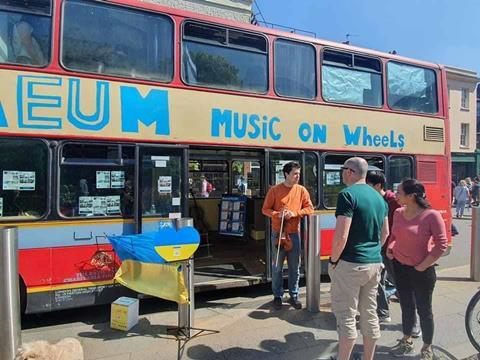 The Lycaeum MusicOnWheels bus, a mobile music classroom, is embarking on a two-week tour of London from 22 August, giving children the opportunity to learn a musical instrument. The project, funded by Arts Council England, aims to make music education more accessible and affordable for children in the capital.
Since 2019, MusicOnWheels has delivered introductory instrumental workshops to over 4,000 children across London, providing 24,000 individual lessons to over 1,500 students, as well as offering free music tuition to more than 580 children in areas where music is lacking.
MusicOnWheels is one part of the larger music service, Lycaeum. Started by music students from the Royal Academy of Music and other conservatoires five years ago, Lycaeum focuses on providing music lessons to those who cannot access them through traditional means.
'The whole point of this project is to democratise musical education,' said owner Petru Cotarcea. 'We are trying to make musical education in the UK more affordable for everybody.'
Musical education has been experiencing a steady decline in recent years with music service hubs experiencing a 17% cut since 2011. The MusicOnWheels tour comes at a time where the decline of arts in education is facing widespread criticism. Both the Musicians' Union and political think tank the Fabian Society have called on the government to provide access to high-quality music lessons for all children, through a National Music Service.
Their report comes in response to the government's national plan for music education that would see schools provide one hour of music education a week and £25 million invested into helping children access musical instruments.
Alongside support from Arts Council England, MusicOnWheels has also received financial support from Brent, Westminster, and Southwark Councils. The tour will run from 22 August to 4 September and will cross the whole of London including Queen's Park, Cutty Sark, Fulham and Richmond Park. Children from between the ages of four and twelve will have the opportunity to try a wide range of instruments with professional music educators.
The tutors on the tour will also be providing a mini-concert series before each event to raise money for medicine-buying activities in Ukraine. At the time the war broke out, Lycaeum had 43 Ukrainian contractors plus their families in the country. Lycaeum has since been heavily involved in sending aid to Ukraine and has delivered £150,000 worth of medical equipment to the eastern and southern areas of the country.