The 2019 Highgate International Chamber Music Festival showcased a variety of repertoire performed in partnerships established especially for the event. But, says Tom Stewart, it is the festival's commitment to educational outreach that is particularly admirable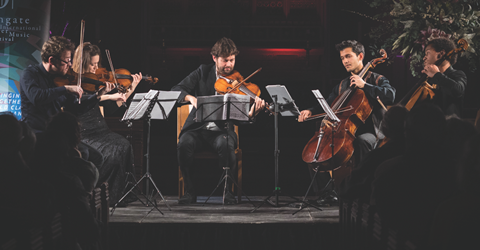 Left to right Alexander Sitkovetsky, Natalie Klouda, Lawrence Power, Asok Klouda and Sheku Kanneh-Mason © Jay Lawrence
It is easy to see what attracted Yehudi Menuhin to the north London suburb of Highgate when he moved to the city in 1959. A former village with twinkling streetlights, tall hedges and polished letter boxes, Highgate is one of the closest things available to the fairytale London of Richard Curtis films and Charles Dickens's happier creations. Close by Menuhin's former home at 2 The Grove is the soaring spire of St Michael's Church, the Gothic Revival setting of the opening night of the 2019 Highgate International Chamber Music Festival (HICMF), along with nearby St Anne's Church, one of the festival's two homes for a week of music making late last November.
Things began disarmingly with glossy performances of Dvořák's slight but highly polished op.74 Terzetto for two violins and viola, and a punchy arrangement for string quintet of Beethoven's Violin Sonata in A major op.47 'Kreutzer'. No fireworks so far, but the scene was set for a week of stylish playing that shone a new light on familiar repertoire and explored music close to it rather than striking out far into the distance. After the interval came Schubert's String Quintet. Even in the sweet, sustained triads of the opening, there was an edge to the group's sound that anticipated the muscular, sinewy performance to come. The players laid bare the whirring cogs of Schubert's invention without it ever feeling like one of them was about to spring loose. Violist Lawrence Power often seemed to be leading from deep inside the music's engine room, freeing up first cellist Sheku Kanneh-Mason and first violinist Alexander Sitkovetsky to play their passagework, when it came, with the same liquid charisma they brought to their long stretches of poignant melody. The church was packed out for the performance and many of the audience – with lots of children among them – were quick to their feet with cheers and applause.
On stage with Power, Sitkovetsky and Kanneh-Mason were two of the festival's three founders, cellist Ashok Klouda and violinist wife Natalie. The couple moved to Highgate in 2012 and found themselves living close to their friend, pianist Irina Botan. 'Irina and Natalie studied together at the Menuhin School,' Ashok explains, 'and the three of us decided pretty quickly that our new neighbourhood seemed like the perfect place to start a festival. We knew enough amazing players between us to organise some really special concerts, and there's incredible support locally for classical music. We also had a healthy amount of naive optimism, which saw us through when it became apparent just how much hard work was going to be required!'
As well as star soloists like Power and Kanneh-Mason, the festival line-up featured members of well-known ensembles including the Heath and Fine Arts quartets, as well as orchestral players from the ranks of the Philharmonia Orchestra and the Orchestra of the Age of Enlightenment. Barely any of the groups featured across the festival's 14 concerts, however, were made up of regular chamber partners; they were instead assembled especially for the occasion. 'Bringing together the right combination of people is a joy and challenge at the same time,' says Ashok. 'You might know lots of players, but it's a question of combining their sounds and their characters.' The 'challenge', he says, lies largely in creating a schedule that takes account of countless clashing diary commitments, sometimes made years in advance, but the approach can also reap special rewards. 'Instead of the baggage of a group that has performed a piece the same way over and over again, you get a freshness to the sound and the interpretation.'
This sense of discovery was palpable in a week of performances that took in some more obscure corners of the usual repertoire. On the second evening, an evolving group of players took on six works including a selection of folk song settings by Beethoven for soprano and piano trio, Mozart's Violin Sonata in E flat major K380 arranged for clarinet quartet and The Shepherd on the Rock, a song by Schubert from the final year of his life, here scored for soprano, clarinet and piano. There were trios along the way by Sibelius and Chausson, too, as well as arrangements for two cellos and piano of a pair of short pieces by Shostakovich. Everything was played with technical finesse and open-hearted fluency and it would have been good to hear the new partnerships on stage take root in something more substantial. As gripping performances of Britten's String Quartet no.1 and Tchaikovsky's radiant 'Souvenir de Florence' String Sextet later in the week showed, the festival's distinctive 'freshness' was most apparent and effective when it had a bit more time to settle in.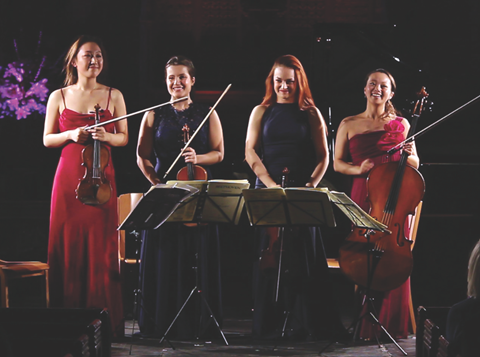 The four members of the Salomé Quartet © Ashok Klouda
One group more accustomed to working together was the Salomé Quartet, which gave a strikingly intelligent and expressive account of Beethoven's 'Rasumovsky' Quartet in C major op.59 no.3. Formed in 2016 at London's Royal College of Music by violinists Haim Choi and Inês Delgado, violist Kasia Zimińska and cellist Shizuku Tatsuno, the group was selected to participate in the festival's 2019 Young Artists scheme, which is supported by the Ex-Animo Foundation. 'It began as a mentoring programme that offered a performance opportunity alongside some coaching,' Ashok explains, 'but we now try to help the players get more experience working in educational settings, too. "Outreach" is seen as separate from the daily diet of a top-level musician, but good musicians have to be good communicators, and learning to communicate well with people who don't necessarily know that much about classical music is especially important.'
It will come as no surprise to anyone accustomed to life in a big city – especially one as unequal as London – that the comforts of prosperous Highgate lie just hundreds of metres from some of the country's most deprived communities. Like last year's participants, the Mithras Piano Trio, the Salomé players will team up with an experienced workshop leader to develop a programme for local primary school children who, as a result of cuts to arts funding, might otherwise not have an opportunity to explore classical music for themselves. The future of chamber music can at times feel uncertain, but as long as young groups like this one have organisations like HICMF to help bring their playing to new audiences, there is plenty of hope.