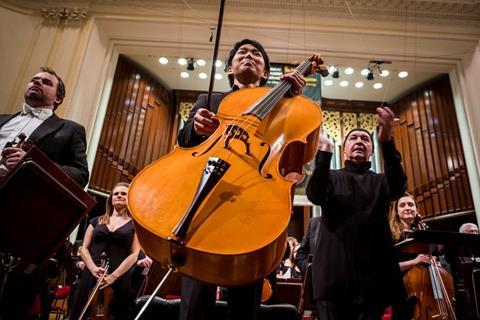 Japanese cellist Haruma Sato has won the eleventh Witold Lutosławski International Cello Competition in Warsaw.
In the final, Sato performed Lutosławski's Cello Concerto along with Haydn's Cello Concerto in C major. He wins a cash prize of €15,000.
Second, third and fourth place went to Ueno Michiaki (Japan), Yibai Chen (China), and Herbert Oliver (USA) respectively. A laureates' concert took place on Saturday 10 February at the Warsaw Philharmonic Concert Hall.
Sato also won a special prize for the performace of Grave by Lutosławski, as did Herbert Oliver for his performance of the composer's Sacher Variation. Two more special prizes went to Polish cellist Krystyna Wiśniewska for her performance of Out by Dariusz Przybylski, and Antonin Musset from France for his performance of Chopin's op.65 Sonata.
The competition invites canditates under the age of 24. The jury comprised Kazimierz Michalik (chair), Andrzej Bauer, David Geringas, Louise Hopkins, Roman Jabłoński, Antonio Meneses, Ivan Monighetti, Kenji Nakagi, Pieter Wispelway, and Marcin Zdunik.