Seventeen-year-old American violinist, a former junior winner at the Menuhin Competition, takes €20,000 first prize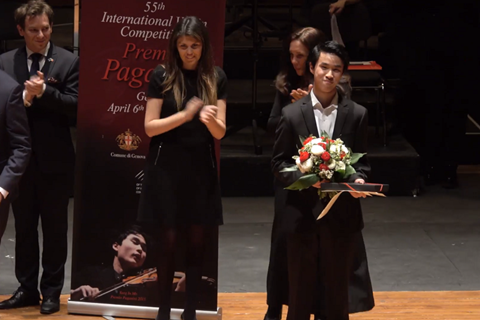 Kevin Zhu has been crowned the winner of the 55th edition of the Paganini International Violin Competition in Genoa. The 17-year-old American will take home a €20,000 cash prize as well as an invitation to perform a recital on Paganini's favourite violin, the 1743 'Cannon' Guarneri 'del Gesù'.
Zhu also won special prizes for his Paganini Caprice performance, and for being the youngest finalist. He is no stranger to the competition circuit, having previously won the 2012 junior category of the Menuhin Competition.
The other finalists in ranking order are:
Second place: Fedor Rudin (France)
Third place: Stephen Kim (United States)
Fourth place: Yiliang Jiang (China)
Fifth place: Oleksandr Pushkarenko (Ukraine)
Sixth place: Luke Hsu (United States)
Zhu was born in Maryland and grew up in California. He trained at the San Francisco Conservatory of Music Francisco and the Juilliard School, studying with Li Lin, Itzhak Perlman and others.
Founded in 1954, the Paganini International Violin Competition has awarded its top prize to a number of outstanding violinists, including György Pauk, Salvatore Accardo, Gidon Kremer, Leonidas Kavakos and Ilya Gringolts.
This year's jury is chaired by violinist Sergei Krylov and also includes the 1985 competition winner Dimitri Berlinsky, 1994 winner Bin Huang, violinists Heiner Madl, Svetlana Makarova and Anna Tifu, and Australian conductor Daniel Smith.