The gala will feature hundreds of students and alumni performing from locations around the world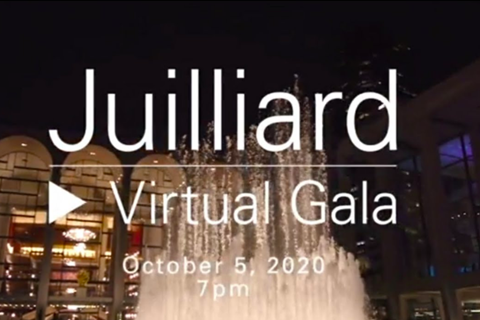 The Juilliard is to hold a Virtual Gala on Monday 5 October at 7pm (EDT) in support of the conservatoire's scholarship funds.
The Gala, featuring hundreds of students and alumni who have filmed themselves at locations around the world, will include two filmed pieces created for the occasion: alumnus Wynton Marsalis's Swing Symphony, 'Midwestern Moods' movement; and a new audio and visual conception of alumnus Philip Glass's 'Knee Play 5' from Einstein on the Beach, arranged by another alumnus: Nico Muhly.
The rest of the gala programme will showcase highlights from the 2019-20 academic year including a look back at alumna Renée Fleming's February 2020 master class with singers from Juilliard's Marcus Institute for Vocal Arts; a behind-the-scenes look at choreographer and alumna Amy Hall Garner's Sight & Sound from New Dances: Edition 2019; a tribute to President's Medal recipient, civil rights leader, and former Juilliard clarinet student Clarence B. Jones; a salute to Historical Performance's 10th anniversary season; the Juilliard Orchestra's virtual performance of 'Nimrod' from Elgar's Enigma Variations, conducted by faculty member and alumnus Itzhak Perlman; and a glimpse into the making of Bolero Juilliard, the virtual collaboration directed and choreographed by Larry Keigwin and Nicole Wolcott that was published in April 2020.
Watch: Juilliard students 'do' Bolero with guests including Itzhak Perlman and Yo-Yo Ma
Read: Jan Vogler to launch new streaming platform DREAMSTAGE
The proceeds from the annual gala will go directly to the Juilliard Scholarship Fund, which supports the approximately 90 percent of current college students who qualify for and receive financial aid. Donations can be made at: https://giving.juilliard.edu/gala
Juilliard President Damian Woetzel said: 'Our virtual performance will honour the talent across the school, from our Music Advancement Programme and Pre-College students who are just starting their artistic journey, to the gifted musicians, actors, and dancers in the college who are honing their craft and expanding their artistry, to our remarkable faculty and alumni paving new pathways out in the world.'
The concert can be viewed at https://gala.juilliard.edu/ and will stay up for about 5-7 days after the event.
Click below to watch a promotional video for the event: