The donation from Crankstart will go towards the school's Saturday Music Advancement Program for intermediate and advanced music students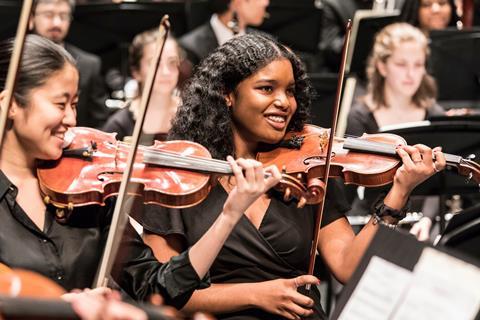 The Juilliard School has received a $50 million endowment from Crankstart for its Music Advancement Program (MAP). The grant coincides with MAP's 30th anniversary and will fund expansion and full-tuition scholarships for all MAP students.
MAP is Juilliard's Saturday programme for intermediate and advanced music students age 8-18 from New York City's five boroughs and the tri-state area, which actively recruits students from backgrounds underrepresented in classical music.
As well as providing full scholarships for participants, the grant will allow the scheme to increase enrolments from 70 to 100 students, as well as investments such as increased faculty and staff to provide greater support and one-to-one attention to students; support for guest artists; and an instrument fund to assist students.
'This gift is incredibly meaningful in that it will affect a staggering number of students for years to come,' said Anthony McGill, artistic director of the MAP. 'At MAP, we discover and encourage young talent, foster a community of compassionate citizens, and celebrate the power of music. Harriet and Michael Moritz's generosity broadens our reach, expands the artistic and educational possibilities for these talented musicians, and opens pathways for them as artists and future leaders in the world.'
The need for diversity and inclusion was acknowledged by Harriet Heyman from Crankstart, 'Crankstart recognises Juilliard's commitment to preparing students from diverse backgrounds for roles as top-flight musicians in leading orchestras and ensembles around the world. Today the proportion of Black and Hispanic musicians in professional orchestras is only 4 percent. MAP's commitment to recruiting underrepresented minorities will help bring new spirit, as well as superb young musicians, to orchestras, concert halls and theatres everywhere.'
More information about MAP including how to apply is available on the Juilliard website. MAP is now accepting applications for the 2022-23 academic year. Applications are due 1 March 2022.