French violinist at forefront of jazz, prog rock and fusion suffered heart attack following concert on Saturday evening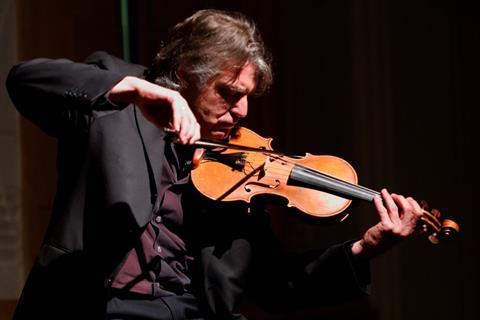 'With great anguish, we – his wife, three daughters, family, agent, collaborators and record company – inform you of the sudden death of Didier Lockwood in his 63rd year, on Sunday, 18 February 2018.'
With this message the passing was announced of a singular figure in French music.
Didier Lockwood was born in Calais in 1956 to an artistic family. His father was a violin teacher, his mother an amateur painter, and his elder brother Francis a budding pianist who would start getting into jazz.
He took his first violin lessons from his father and entered the Calais conservatoire at the age of six. A rigorous classical training followed, with Lockwood crediting the Carl Flesch method with giving him the technical facility he brought to his later jazz career.
His exposure to jazz and improvised music, inspired by Jean-Luc Ponty, lead him away from trying to enter the Paris conservatoire for further study, and instead at the age of 17 he joined French progressive rock group Magma. He also made inroads into the thriving French jazz scene the late 1970s, having played with and taken lessons from Stéphane Grappelli, and went on to perform in all manner of configurations and styles, including with legends Gordon Beck, Martial Solal and Michel Petrucciani. He released his first album as a band leader, New World, in 1979 and went on to produce many more under his own name or as a band member.
In 1996 he composed and performed a concerto for electroacoustic violin to perform with the Orchestre National de Lille, and composed other works for orchestra, including a piano concerto. He further tackled jazz/classical fusion in the Jazz and the Diva project with his then wife Caroline Casadeus, and had recently recorded an album with current wife, soprano Patricia Petibon.
In 2000 he founded the Didier Lockwood Music Centre, a training academy focusing on jazz and improvised music which went on to gain national accreditation. It also hosted Maxim Vengerov as a student in 2005, the Russian virtuoso considering Lockwood as the best teacher to induct him into the mysteries of improvisation, describing him as 'a legend of our time'.
On news of his death, violinist Renaud Capuçon wrote on Twitter: 'How sad to learn of the passing of the incomparable jazz violinist Didier Lockwood. France loses an exceptional musician, a man of rare qualities. We'll miss him immensely.'
French president Emanuel Macron said: 'We will miss his radiance, his openness and his immense musical talent.'
During his career his awards included the Victoires de la Musique, the Golden Django, the Grand Prix of Sacem, the Django Reinhardt Prize, as well as the Légion d'honneur and being appointed Officer of the Ordre des Arts et des Lettres.