Hungarian cellist described the new post as 'a very inspiring and beautiful task'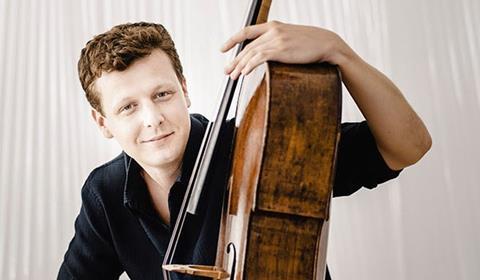 Hungarian cellist István Várdai has been named as the new artistic director of the Franz Liszt Chamber Orchestra, based in Budapest. The offer was made by the orchestra's concertmaster, Péter Tfirst, who spoke of the 'long-standing, mutual, professional respect for each other's work' between the cellist and the orchestra.
'István Várdai's career has been accompanied by the ensemble,' he said. 'We will now intensify the co-operation, which was limited to individual concerts in the past. Not only [has he] influenced the work of the ensemble as a soloist; István's complex musicality, holistic approach and world-renowned work also inspire our chamber orchestra artists.'
Speaking of his delight at the opportunity, Várdai said he and the orchestra shared the same artistic goals: 'I feel that the key to the Franz Liszt Chamber Orchestra's and my own artistic development is the same: to create, as Hungarian musicians, music and art programs that give the audience a lasting experience and high cultural value anywhere in the world.
'The artistic leadership of the Franz Liszt Chamber Orchestra gives me an exciting new perspective. This is an ensemble with a great past, and I have always enjoyed playing with them, because they play at the highest level. It will be a very inspiring and beautiful task to perform with a group of outstanding musicians on the world stage and develop an artistic concept that is internationally outstanding.'
The Franz Liszt Chamber Orchestra was founded in 1963 and its first artistic director was the Hungarian violinist Frigyes Sándor.
Following success on the competitions circuit, including first prizes at the 2014 ARD International Music Competition and at the 2008 Geneva International Music Competition, Várdai embarked upon a career as a concerto soloist, recitalist and chamber player. He recently performed with pianist Elisabeth Leonskaja and violinist Liza Ferschtman on their European tour of Schubert Trios, and he is co-curator of the Kapostfest Chamber Music Festival in Hungary, with violinist Kristóf Baráti. This season he performs the Elgar Cello Concerto with Prague Radio Symphony Orchestra under Marek Šedivý; and he will participate in the 2020 Piatigorsky International Cello Festival presented by the University of Southern California Thornton School of Music and Los Angeles Philharmonic from 13 to 22 March.
Read: István Várdai on winning competitions and beyond
Read: István Várdai receives 'Du Pré-Harrell' Stradivarius cello on extended loan
Read: István Várdai wins Germany's ARD International Music Competition top cello prize