Previously part of a German private collection, the manuscript sheds light on the genesis of two Mozart compositions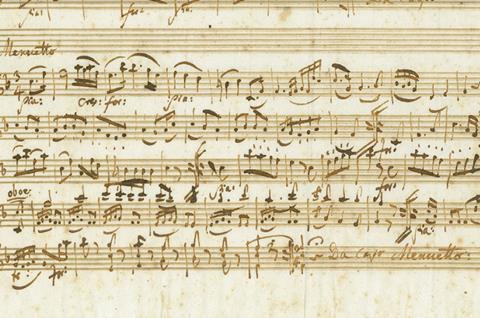 The autograph and manuscript dealer J.A.Stargardt is to auction a recently discovered autograph music manuscript by Wofgang Amadeus Mozart in Berlin on 16 April.
One side of the manuscript, which has been part of a German private collection since the mid-19th century, comprises the complete first violin part for two orchestral dances, KV 609 No.4 and KV 463 (448c) No.1. The reverse side shows three drafts for the programme of Mozart's famous concert of March 23, 1783, at the Burgtheater in Vienna, which took place under the composer's own direction and participation in the presence of Emperor Joseph II; and marked Mozart's establishment as a freelance musician. The drafts reveal Mozart's thoughts on the individual pieces, their order and the performers.
Read: What is it like to play Wolfgang Amadeus Mozart's own violin?
Read: Salzburg Mozarteum Foundation acquires a lock of Mozart's hair
Read: Mozart portrait sold for record price
Taken as a whole, the manuscript sheds light on the origin of the two dances, which were previously thought to have been written at a later date. It has an estimated value of €140,000.