Christoph Koncz, principal second violinist of the Vienna Philharmonic, shares his experience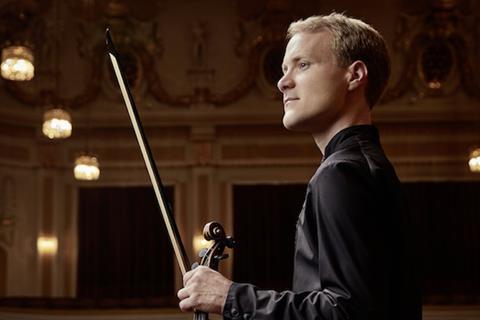 Christoph Koncz, principal second violinist of the Vienna Philharmonic, has been granted exclusive access by the Mozarteum in Salzburg to Mozart's own violin to record Mozart's five Violin Concertos on the composer's own violin for the first time ever - a project that required him to be accompanied by two bodyguards whenever he handled the precious instrument.
To tie in with the release of the recording, today, the violinist talks about the instrument, and his experience of playing on it.
Can you tell us about the history of this violin?
This is the violin that Mozart had in Salzburg, when he became concertmaster of the Salzburg Hofkapelle aged 13 in 1769. We don't know exactly how it came into his possession; I assume his father bought it for him. But there are verified documents proving that this was Mozart's instrument. And it's actually quite easy to trace it back to the composer, as it changed hands relatively few times between then and now.
It's a baroque instrument. There is a 'Jacob Stainer' inscription inside, but it's definitely not a Stainer violin. I'm not 100 per cent sure who the maker is. The latest theory is that it was made in Mittenwald at the beginning of the 18th century, where the Klotz family was working. So it could well be by Aegidius Klotz - which would make sense because the Klotz family made a lot of Stainer models.
Did Mozart compose his Violin Concertos for this instrument?
Quite possibly. He started composing Violin Concertos in 1773 and actually the first one is the first instrumental concerto he every wrote. We don't know for sure if he played this concerto in Salzburg but I assumed he wrote it for his own use, which would make sense with the timeline. And when he went on tour, on his big journey to Mannheim and then to Paris in 1777 and 1778, he wrote to his father that he had played one of his concertos. So we know for sure that he played at least one - and it's likely that he also played the others.
When did Mozart stop playing the violin, and what happened to it after that?
When Mozart moved to Vienna in 1781, he left the violin in Salzburg with his sister, who lived much longer than him. In 1820 she gave the violin to a student she was very fond of. When this child passed away - unfortunately only nine years later - the parents sold the instrument to a violin teacher who, by coincidence, moved into the same flat that Mozart was born in, so somehow the violin came back to Mozart's birth place! This person held on to the violin for several decades, before passing it on to his son, who, in turn, sold it to a family of pharmacists. And it was these pharmacists who sold it the Mozarteum, where it still lives.
How did you first get acquainted with this instrument?
I've been on good terms with the people at the Mozarteum for a long time. In 2012 they invited me to come to Salzburg and try out the instrument, so I went into the storage room, armed with a Baroque bow, and spent hours playing through the Mozart Concertos. Immediately feeling a great connection with the instrument, I asked if anybody had recorded the concertos on it, and to my surprise they said no. So I decided that this would be my goal.
What condition was the violin in?
It's always challenging to come back to an instrument that hasn't been played for a while, and I'm quite sure that since Mozart's time there has been nobody who played on this one as intensively as me! But the Mozarteum has taken very good care of it. The violin is unusual in that it has never been modernised; even Baroque violinists usually play on modernised instruments that have been rebuilt in the period style. But I didn't need to do any repairs: I just put on new gut strings and found an appropriate Baroque bow to go with it.
Watch: Christoph Koncz plays Mozart on the composer's own violin
Read: Rare portrait of Mozart as a teenager auctioned in Paris
Read: Salzburg Mozarteum Foundation acquires a lock of Mozart's hair
Can you describe the violin's sound?
I admit that I was quite nervous about this aspect, as I was worried that the sound would be too small to hold its own when accompanied by an orchestra. So we held several concerts on the violin before making the recordings - and I was surprised at how well it projected. The violin has a silvery, shiny sound, which, in my opinion, is at its best when one plays cantabile. The lower strings aren't particularly rich or powerful, but the higher strings project a lot better, and have a sweet, singing tone. So it's interesting that Mozart's violin concertos tend to have more going on in the higher register: I suspect that he was playing to the strengths of his own instrument.
Are there any letters from Mozart in which he mentions this violin?
No, but we do have letters from other people describing his reaction to other people's violins! One anecdote comes from a trumpeter-violinist friend of the family, who describes sight-reading chamber music with Mozart's father Leopold. He recalls how the young Wolfgang joined in with the rehearsal and sight-read the music perfectly, before complimenting the first violinist on the beautiful sound of his violin. He said it was like butter: soft and warm. So we know that this is the kind of sound he appreciated in a violin.
Finally, what is it like to practise the violin in the company of two bodyguards?
One imagines a bodyguard to be a wide-framed man, but actually these bodyguards are the ladies of the Mozarteum! Of course, the logistics of making sure we are all in the same room when I practise can be challenging, especially given that the violin lives in Salzburg, and I live in Vienna. But we make it work. I don't know how enjoyable it is for the bodyguards listening to me practise, but they usually just spend the time doing their emails.
Koncz's new recording featuring Mozart's own violin is out today on the Sony Classical label