The oil-on-canvas portrait was sold for €4 million, well beyond the auction house's presale estimate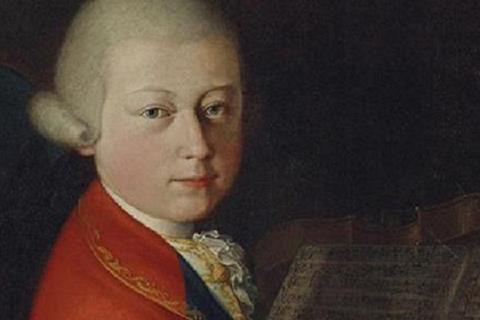 A rare portrait of Wolfgang Amadeus Mozart sold for €4,031,500 at Christie's in Paris on Wednesday, well beyond the auction house's presale estimate of €800,000-€1.2 million.
The oil-on-canvas portrait, which depicts the then-13-year-old Mozart in a white wig and a red frock coat playing the harpsichord, was sold after a long bidding battle between three telephones. The final price set a new world auction record for a portrait of Mozart and for the artist Giambettino Cignaroli.
Dating from 1770, the artwork is one of five portraits of the Austrian composer painted during his lifetime.
The most famous include a drawing, now held at the Musée Carnavalet, of the then-7-year-old composer at the piano with his family; and a painting of him, aged 6, attributed to Lorenzoni and now held by the Mozarteum in Salzburg, the composer's birth city.
What is extraordinary about the 1770 portrait, according to Astrid Centner-d'Oultremont, head of the Old Masters department at the British auction house's Paris branch, 'is that we can precisely retrace the circumstances of the order [for the picture]; this happens very little in the world of art…Wolfgang's father, Leopold, speaks about it in a letter to his wife and tells the story of January 6-7, 1770' .
In his letter, Leopold reports that Pietro Lugiati, general tax collector in Venice and an admirer of the young composer, decided to commission the portrait, which was painted in two successive sessions - some days after an organ concert Mozart performed in Verona in January 1770.
The painting also depicts a musical score, just visible at the edge of the frame. Some say it's the work of Mozart himself, while others argue that the style is typical of the Venetian composer Baldassare Galuppi. It is now known as 'Allegro of Verona, KV72a in G Major'.
The portrait came to Christie's from the collection of the Franco-Swiss pianist and conductor Alfred Cortot.