Ahead of its 50th anniversary celebration next year, the school seeks alumni to get in touch with archival content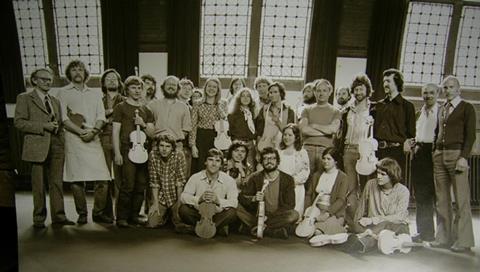 Read more news articles here
Organisers of the Newark School of Violin Making Lutherie 2023 conference, Helen Michetschlӓger and Tim Southon, are calling for Newark alumni to be in touch with the school. They write:
'The Lutherie 2023 conference, to be held at Newark Town Hall on 29 April 2023, will celebrate the 50th anniversary of the Newark School of Violin Making. As well as presenting a line-up of speakers to represent the huge range of talent of Newark alumni, we plan to mount a display about the history of the school.
'We're looking for help; if you have any photos or other archival material (digital scans are fine), please contact us using lutheriedayuk@gmail.com
'We also hope to display as complete a list of names as possible of the students who have studied at Newark. We have made a good start by asking for the recollections of a number of alumni, but if anyone would like to ensure their name is on the list please send your name and years of attendance to lutheriedayuk@gmail.com. The list will only contain the name of the student and their years of attendance, however if anyone does not want their name included please let us know by email at lutheriedayuk@gmail.com'
Details of the 2023 programme will be released early next year.