The multiple award winning quartet will begin its residency in the autumn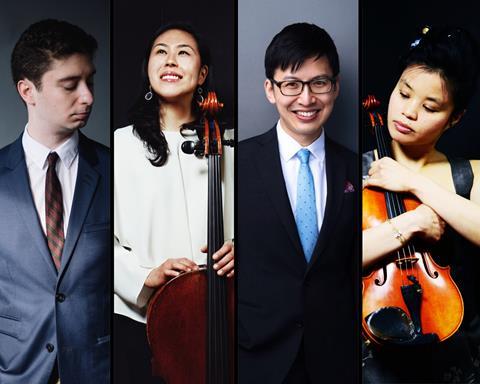 Read more news articles here
The Moores School of Music in Houston, Texas, has named the Formosa Quartet as its quartet in residence for the next academic year.
The quartet will make regular visits to the school, supporting the string and chamber music programmes with individual ensemble coaching, masterclasses and performances to the public.
Dean of the college, Andrew Davis said: 'The appointment takes the already nationally known faculty and programmes in strings and chamber music to the next level. The Formosa Quartet now adds one more reason for students to come to the Moores School of Music.'
The school will join the list of residencies the quartet already has across North America and Asia including at Eastern Michigan University and the University of California.
During its 20-year career, the quartet has won multiple awards including first prize and the Amadeus Prize at the Wigmore Hall International String Quartet Competition in 2006 as well as performing internationally in venues such as the Lincoln Center and the Kammermusiksaal at the Berlin Philharmonie. Its recording of Mozart's G major Quartet K387 was described as 'spellbinding' by The Strad.
The quartet has already started working with students at the school during various visits and has 'formed lasting bonds with the faculty and students' according to associate professor of violin Dr. Kirsten Yon. 'On stage and in the classroom, the Formosa Quartet brings imagination to life.'
Cello performance major Oshagan Merjanian worked with the quartet on a recent visit to the college and said: 'spending time with the Formosa Quartet was an incredibly inspiring and literally uplifting experience. Their world-class musicianship is astounding, and their humility to interact with students at our level is cherished.'
Another student, violinist Bernini Chan said: 'The interaction they had with audiences during their concert was eye-opening and totally inspired me with fresh ideas to plan my own chamber group's community outreach performance. I am already looking forward to them coming back next semester!'