Second and third prizes were awarded to Noga Shaham and Haneul Park respectively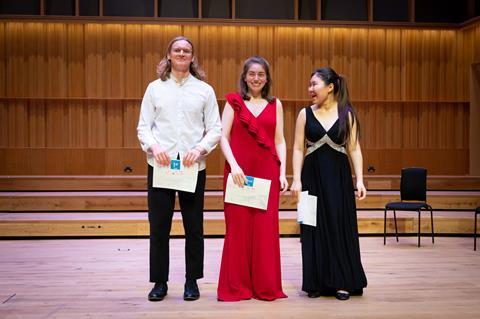 Welsh violist Edgar Francis has won first prize at the Cecil Aronowitz International Viola Competition. . The 22-year-old wins £5000, a record deal with Champs Hill records, a fine viola bow courtesy of Bishop Instruments & Bows; and a KorkferRest, strings and rosin courtesy of Pirastro.
Second prize was awarded to Noga Shaham (20, Israel) and third prize to Haneul Park (20, South Korea).
The final round was held on 12 November, which saw the three finalists perform the first movement of either Hoffmeister or Stamitz Viola Concerto, plus Britten's Lachrymae with the Royal Birmingham Conservatoire Chamber Orchestra, conducted by Angus Webster. The jury members were Matthew Jones, Thomas Riebl and Garth Knox.
Now in its third iteration, the Cecil Aronowitz International Viola Competition is open to viola players aged 21 or younger. The previous winners are Emma Wernig (2017) and Timothy Ridout (2014)
Read: 'I have never entered a competition hoping to win' - Emma Wernig
Read: Life Lessons: Timothy Ridout
Watch: Violist Timothy Ridout and James Baillieu perform in Benjamin Britten's library