Vichy Enchères' second sale of items from the leading French bowmaker's collection included 95 bows and 16 violins, with a number of records set for makers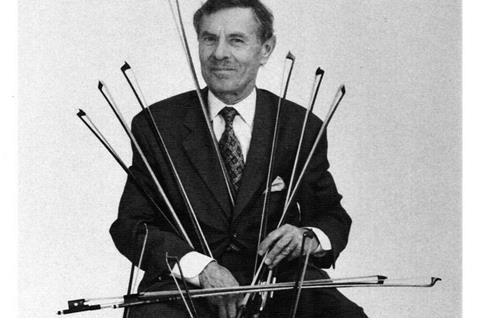 The second auction of items from the collection of Bernard Millant was held yesterday at musical instrument specialist auction house Vichy Enchères. The first, in November 2017, followed the leading French archetier and dealer's death in April of that year.
Nearly 100 bows and 16 violins went under the hammer, with headline items including a silver-mounted violin bow by François Xavier Tourte which fetched €324,880 – making it the second most paid for a bow by any maker, after the €576,600 fetched by another Tourte at the previous Millant sale.
Among the auction world records for particular bow makers was €198,400 paid for a silver-mounted cello bow by Dominique Peccatte, €93,000 for a viola bow by Étienne Pajeot, and €42,160 for a Charles Peccatte violin bow, as well as a violin bow by Millant himself, which fetched €18,600.
Most of the giants of French bow making were represented, with lots by Fonclause (world record at €83,080), Sartory, Ouchard, Fétique, Persoit, Lamy, Voirin and others.
The 16 violins included examples by J.B. Vuillaume, Nicolò Gagliano, Carlo Antonio Testore and Georges Chanot. A fine 1883 violin by Stefano Scarampella fetched €148,800, a new record for the maker.
One of François Chanot's famous but unloved experimental guitar violins (pictured in gallery above) fetched only €4,340.
All prices include buyer's premium. More information on the auction here.
Read: Bernard Millant collection goes under the hammer