Cremona is in partial lockdown to prevent spread of coronavirus, as a resident of the city tests positive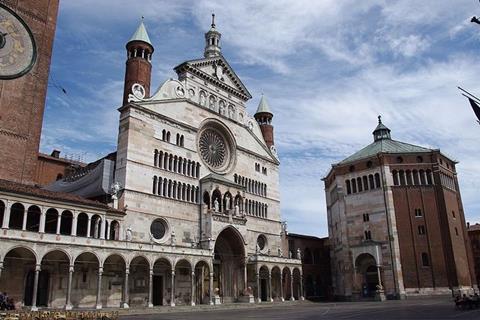 Cremona, violin-making capital of the world, is battling to prevent the spread of coronavirus after an Italian army soldier, resident in the city, tested positive for the virus. The soldier was posted to Milan but had been off duty and at home in Cremona since Wednesday. 'All measures to safeguard personnel have been taken,' said the army.
The city has already been in a state of partial lockdown for days, with 90% of the confirmed coronavirus cases occurring in Italy's Lombardy region. Church services were cancelled on Sunday, weekday masses were suspended, local weekend markets were closed. Even funerals are being held only for family members and close relatives. Having closed its doors to worshippers, the city's cathedral chose instead to broadcast its Sunday mass on television. 'We celebrate this Holy Mass,' said its priest Monsignor Franzini at the opening 'at a particular moment. Coronavirus has also come here and makes us feel fragile and helpless. It makes us understand that our life is in the hands of God.'
Elsewhere in the city, pharmaceutical staff have been told to wear masks. Marco Ponticelli, President of the pharmacy A.F.M, commented: 'I would like to thank the employees for the work they are doing in these days, in contact with the public. They are wearing masks as a precautionary measure because their use has been recommended. Of course it is not easy to work like this, not least because the masks irritate the skin when worn for a whole shift. And it is not easy to face the widespread anxiety that people feel these days, but they keep calm at all times, giving advice to those who ask for it.'
The news comes as Italian authorities continue to implement measures to try to halt the coronavirus outbreak in the north of the country, including imposing fines on anyone caught entering or leaving outbreak areas.
The number of cases of the virus in the country has risen to 270, with seven deaths. Police are patrolling 12 towns – mostly in the Lombardy region, where the first locally transmitted case emerged – that have been in lockdown since Friday night.