Jesús Castro-Balbi takes on his new role from 1 July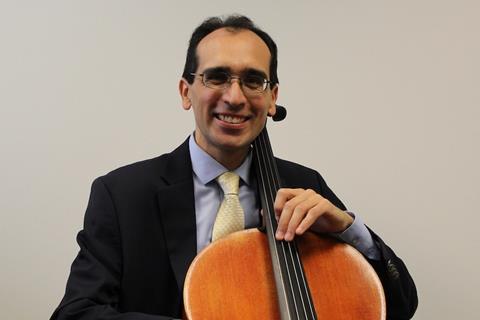 The cellist Jesús Castro-Balbi has been named director of the Dr. Bobbie Bailey School of Music, at Kennesaw State University (Georgia, USA), which recently received a multi-million dollar gift from the Bobbie Bailey Foundation. Bailey's appointment is effective from 1 July.
Of Peruvian heritage and raised in France, Castro-Balbi graduated from the Conservatoire National Supérieur at Lyon, Indiana University Bloomington, and the Yale School of Music, and holds a Doctor of Musical Arts degree from The Juilliard School. He has performed as a soloist with the Aarhus (Denmark), Dallas, and the Fort Worth Symphony Orchestras; the China, Louisiana, and Mexico City Philharmonic Orchestras; the Leipzig Radio Orchestra; and the National Symphony Orchestra of Peru. He has guest taught at Beijing's Central Conservatory, Paris Conservatoire, Leipzig and Stuttgart Hochschule, for the Japan Cello Society, at The Juilliard School, and at the Yale School of Music.
Read Violist Rosalind Ventris and conductor Joseph Fort announced as Artistic Directors of the Cowbridge Music Festival
Read Rhiannon Giddens named artistic director of Silkroad
Read Academy of St Martin in the Fields on their current music director Joshua Bell
Most recently, he served as professor and faculty leader at Texas Christian University (TCU). Additionally, he has adjudicated at the Lynn Harrell Competition (Dallas), the Sphinx Competition (Michigan), and at the Aiqin Bei (China), Lutoslawski (Poland) and Carlos Prieto (Mexico) international cello competitions.
'Dr. Jesús Castro-Balbi is a world-class concert cellist who brings to KSU a profile of international repute,' said Ivan Pulinkala, Dean of the College of the Arts. 'I look forward to welcoming him to the leadership cabinet of the College of the Arts and working closely with him to advance the Bailey School of Music with a focus on student success, as well as artistic and scholarly excellence.'
Castro-Balbi said, 'I am honoured and thrilled to join Kennesaw State University at this exciting juncture. KSU's commitment to student success, innovation, creativity, inclusive excellence, and societal impact is truly inspiring. I look forward to serving the Dr. Bobbie Bailey School of Music at KSU as we celebrate the accomplishments and chart the future of this extraordinary community.'