Triennial event in Hanover, Germany, offers €50,000 top prize plus Naxos album release, loan of Guadagnini and performance invitations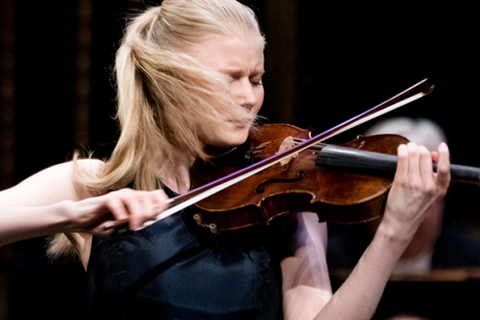 The tenth International Joseph Joachim Violin Competition Hanover has announced the 39 candidates it is inviting to its live rounds in October.
Sixteen different nationalities are represented, with over a third being current students at a German Hochschule.
The competitors are:
Austin Berman (US)
Lara Boschkor (Germany)
Lorenz Chen (Germany)
Jung Min Choi (South Korea)
Timothy Chooi (Canada)
Anna Agafia Egholm (Denmark)
Leonard Fu (Germany)
Rennosuke Fukuda (Japan)
Yuichiro Fukuda (Japan)
Marie-Astrid Hulot (French)
Mayumi Kanagawa (US)
Haram Kim (South Korea)
Issei Kurihara (Japan)
Anna Lee (US)
Miyeon Lee (South Korea)
William Lee (Taiwan)
Youjin Lee (South Korea)
Alexandra Lomeiko (New Zealand)
Mathilde Milwidsky (UK)
Yasuka Morizono (Japan)
Yukari Ohno (Japan)
Seiji Okamoto (Japan)
Rachel Ostler (US)
Jinsu Park (South Korea)
Kyumin Park (South Korea)
Xiaoxuan Shi (China)
Ji Won Song (South Korea)
Cosima Soulez Lariviere (France)
Olga Sroubkova (Czech Republic)
Christa-Maria Stangorra (Germany)
Naoko Tajima (Japan)
Alexandra Tirsu (Romania)
Dmytro Udovychenko (Ukraine)
Eimi Wakui (Japan)
Jinyu Wang (China)
Roxana Wisniewska Zabek (Spain)
Victoria Wong (Australia)
Minami Yoshida (Japan)
Stephanie Zyzak (US)
Launched in 1991, the Joseph Joachim Competition takes place every three years in Hannover, central Germany. Violinists between the ages of 16 and 27 are invited to compete in five competition rounds for a total of €140,000 in monetary prizes. Previous winners include Frank Huang, Nemanja Radulovic and Antje Weithaas.
This year has added new features this year, including a session where competitors who advance to the finals will perform a string quintet as leader, along with the Kuss Quartet.
The concerto final will feature the NDR Radiophilharmonie conducted by Andrew Manze.