Held at the Fernando de Rojas Theatre on 31 March, proceeds will go to the Red Cross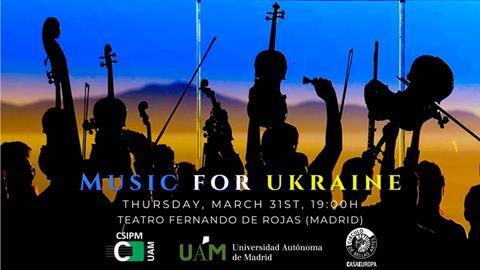 Tickets for this concert can be found here. A description from the event page is as follows:
'Let music speak now more than ever: music for peace, music for Ukraine. On the occasion of the terrible events that are happening in Ukraine and the suffering of millions of innocent people, the Círculo de Bellas Artes and the Universidad Autónoma de Madrid organise this solidarity concert for the benefit of the Red Cross.
'The idea came from the founders of Music Without Quarantine , an international solidarity movement of artists who offered their music during the hard months of confinement in 2020. Four of the musicians will participate in this solidarity concert for Ukraine: Claudio Constantini (bandoneon), Anna Fedorova (piano), Mikhail Pochekin (violin) and Dana Zemtsov (viola). Along with these four artists, six other musicians will also perform, including Boris Fedorov (piano), Vadim Gladkov (piano), Tatiana Melnychenko (soprano), Elina Sitnikava (violin), Ihor Voievodin (bass-baritone) and the young Sofia Zholobova (piano), who is a Ukrainian refugee.
'For the occasion, the artists have put together a programme to demonstrate that music knows no borders, with works by S. Bortkevych, F. Chopin, C. Constantini, V. Filipenko, C. Gardel, GF Händel, M Kugel, S. Prokofiev, S. Rachmaninov, L. Revutsky, V. Silvestrov, M. Skorik, and P. Tchaikovsky.'