Violinists and double bassists from across the BBC's five orchestras will be among those performing in single-instrument ensembles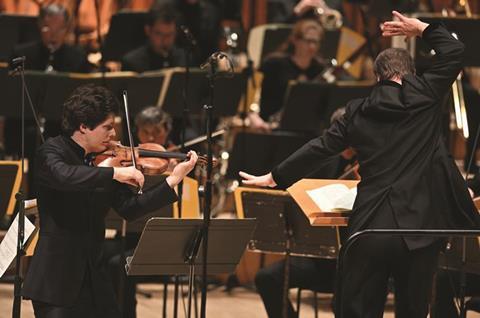 The BBC is set to launch a new series from Wednesday 22 July. 'BBC Instrumental Sessions' will bring together musicians from across the corporation's orchestras and choirs to perform together in single-instrument ensembles. The project will include a group made up of 49 violinists, and another involving 21 double bassists.
The first weekly Instrumental Session will be broadcast on BBC Radio 3's In Tune on 22 July at 5pm, as 15 members of the BBC's Orchestras percussion sections perform Saint-Saens's Danse Macabre, arranged by the BBC Concert Orchestra's principal percussionist, Alasdair Malloy. In the week beginning 10 August, 49 violinists will perform an arrangement by Robin Wallington of Vivaldi's Concerto for 4 violins in B minor from L'estro armonico op.3 no.10), In the week beginning 7 September, the sixth of Rachmaninoff's Vespers, 'Bogoroditse', in an arrangement by David Stark).
The participating orchestras are the BBC Symphony, BBC Philharmonic and BBC Concert orchestras; the BBC Scottish Symphony Orchestra; and the BBC National Orchestra of Wales. Videos of performances will be made available following the broadcasts, on the orchestras' websites and social media channels. Selected sessions will also be downloadable.
Read: BBC Proms reveals full details of socially-distanced 2020 season
Read: BBC Philharmonic appoints new concertmaster
Read: Public to perform and sing on track with BBC Lockdown Orchestra as part of a UK-wide performance
'One of the positives to come out of our current situation has been the possibility of collaborating with amazing colleagues from the other BBC Orchestras,' said Lenny Sayers, principal bass clarinet at the BBC National Orchestra of Wales. 'The orchestral world is a small one, and most of us know each other anyway, and we have a great deal of mutual admiration and respect.'