The Bavarian Radio competition offers cash prizes and numerous performance opportunities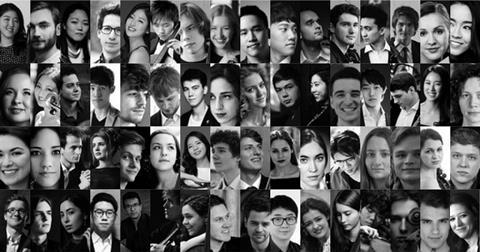 The 2019 ARD International Music Competition offers four categories: cello, clarinet, bassoon and percussion. In each category there is a first prize of €10,000, plus cash prizes for second and third place, a number of special prizes, and a host of paid performance opportunities.
Launched in 1952, the competition focuses each year on different instrumental categories, selected from 21 disciplines.
This year's cello event begins on 4 September and culminates in the 13 September final with the Bavarian Radio Symphony Orchestra in which the three remaining candidates will perform their choice of the Elgar, Schumann, Shostakovich no.2 and Martinů no.2 concertos.
The competition has invited a total 64 cellists and 20 piano trios to its live rounds in Munich in September.
They are:
Riana Anthony, USA
Beata Antikainen, Finland
Friederike Luise Arnholdt, Germany
Basile Ausländer, France / Switzerland
Joel Blido, Germany
Nepomuk Braun, Germany
Konstantin Bruns, Germany
Pin-Jyun Chen, Taiwan
Min Suk Cho, South Korea
Ye Lin (Stella) Cho, South Korea
Hayoung Choi, South Korea
Yehjin Chun, South Korea
Elia Cohen-Weissert, Germany / Israel
John-Henry Crawford, USA
Christoph Croisé, Germany / France / Switzerland
Simone Drescher, Germany
Chiara Enderle Samatanga, Switzerland
Rolando Fernandez, Mexico
Jeremias Fliedl, Austria
Jérémy Garbarg, France
Wassily Gerassimez, Germany
Johannes Gray, United States
Fedor Grigoriev, Russia
Anouchka Hack, Germany
Sihao He, China
Christoph Heesch, Germany
Natania Hoffman, Italy / USA
Stéphanie Huang, Belgium
Raphaël Jouan, France
Minji Kang, South Korea
Ivan Karizna, Belarus
Min Ji Kim, South Korea
Stanislas Kim, France
Marcel Johannes Kits, Estonia
Anastasia Kobekina, Russia
Maciej Kulakowski, Poland
Benjamin Lai, USA / Taiwan
Christine JeongHyoun Lee, South Korea
Kanghyun Lee, South Korea
Yeong-Kwang Lee, South Korea
Olivier Marger, France
Laura Moinian, Germany
Guilherme Nardelli Monegatto, Brazil
Dilshod Narzillaev, Uzbekistan
Erica Piccotti, Italy
Florian Pons, France
Nadège Rochat, France / Switzerland
Senja Rummukainen, Finland
Haruma Sato, Japan
Andreas Schmalhofer, Germany
Katarina Schmidt, Germany / Sweden
Oleksiy Shadrin, Ukraine
Lev Sivkov, Russia
Ivan Skanavi, Russia
Anton Spronk, Netherlands / Switzerland
Sayaka Selina Studer, Japan / Switzerland
Ildikó Szabó, Hungary
Laura Szabó, Hungary
Friedrich Thiele, Germany
Michiaki Ueno, Japan
Volodia Van Keulen, France
Guillaume Wang, Australia
Sul Yoon, South Korea
Chaired by American cellist Lynn Harrell, the jury comprises Ophélie Gaillard, Matt Haimovitz, Maria Kliegel, Torleif Thedéen, Tamás Varga and Pieter Wispelwey.
The ARD Competition has helped to launch the careers of a number of leading musicians throughout the years, including Yuri Bashmet, Christian Tetzlaff, Antoine Tamestit, Jessye Norman, Mitsuko Uchida, Thomas Quasthoff and Heinz Holliger. The most recent cello winner was István Várdai in 2014 (see his finals performance below).