First 'Benedetti Sessions' to take place in Glasgow, London, Dundee, Antrim, Manchester and Saffron Walden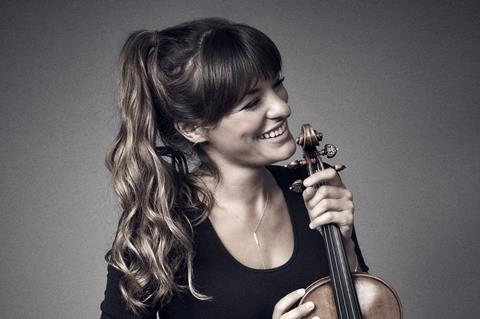 Following the launch of the Benedetti Foundation in January this year, Nicola Benedetti has announced the first raft of orchestral workshops to take place in various locations around the UK in 2020.
The Scottish violinist intends the 'Benedetti Sessions' both for young musicians and for local teachers, with each weekend covering all playing abilities and professional developement elements. The weekends will include:
Courses for Beginner String Orchestra (pre-grade 1 to grade 3); Intermediate String Orchestra (grade 4 – 6) and Advanced String Orchestra (grade 7+)
A General Musicianship morning for beginners
String Teachers Professional Development Weekend for instrumental string teachers
Primary Classroom Teachers Professional Development Workshop for non-specialist primary classroom teachers
And a Primary Schools Workshop Session introducing pupils to the fundamentals of music
'I have loved music and the violin since I was 4 years old. Nothing could stop me from wanting to play, but each time I encountered a mass-collective musical experience it deepened and strengthened my enjoyment and commitment to music,' Benedetti said.
'There are no limits to our learning possibilities through music. We just have to be curious and open-minded enough to notice that this language is as rich as life itself, and this is what we aspire to expose young people to through the Benedetti Sessions.
'In order to provide the highest possible standard of teaching, inspiration and guidance throughout the weekends, we have engaged the most phenomenal group of tutors. Each and every one of these musicians are not only extraordinary instrumentalists and teachers, but are also the most wonderful, uplifting, joyous yet serious individuals. We can't wait to get started.'
Full details of applications process available at www.benedettifoundation.org
The Benedetti Sessions 2020
Glasgow Sessions: 3 - 6 January 2020
Venue: Glasgow Royal Concert Hall and RSNO Centre
In partnership with: Glasgow Royal Concert Hall, UNESCO City of Music and the Royal Scottish National Orchestra
Applications: NOW OPEN and will close on 18 September 2019
London Sessions: 10 - 12 January 2020
Venue: Southbank Centre
In partnership with: Southbank Centre
Applications: NOW OPEN and will close on 18 September 2019
Dundee Sessions: 6 - 8 March 2020
Venue: Caird Hall
In partnership with: Scottish Chamber Orchestra and Caird Hall, and generously supported by Leisure & Culture Dundee
Applications: NOW OPEN and close on 18 September 2019
Northern Ireland Sessions: 1 – 3 May 2020
Venue: Education Authority Antrim Board Centre
In partnership with: Education Authority Music Service
Applications: open in early November 2019
Manchester Sessions: 11 - 13 September 2020
Venue: Manchester
In partnership with: The Hallé
Applications open in early May 2020
Saffron Walden Sessions: 18 - 20 September 2020
Venue: Saffron Hall
In partnership with: Saffron Hall
Applications open in early May 2020