Tim Homfray hears the trio perform at London's Wigmore Hall on 24 February 2022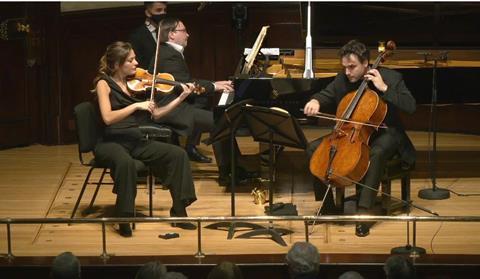 In her introduction to this concert, violinist Nicola Benedetti described their programme as 'deeply connected'. Schumann, whose D minor Piano Trio came first, was a friend and mutual admirer of Brahms, whose B major Trio occupied the second half. In between was Wolfgang Rihm's Fremde Szene III, which looks back to the harmonic world of the earlier composers. The opening movement of Schumann's trio pulsed restlessly, with supple melodic playing. The dotted rhythms of the second movement pressed urgently onwards, and in the third-movement Langsam there were exquisite extended melodic lines from violin and cello, fragile and spellbinding. The energy of the finale was punctuated by stabbing accents and balanced by tenderness, with a tremendous gallop to the finish.
The string players negotiated the slow held notes at the opening of the Rihm with exemplary bow control and all three produced ferocious playing in the wild, insistent rhythms that followed. In the midst of this sometimes harsh music, little Schumannesque snatches peeked curiously out. In Brahms's trio they deftly negotiated the complex landscape of the first-movement exposition, mingling surety with questing uncertainty. Pianist Alexei Grynyuk, superb throughout, produced limpid arpeggios over the dry staccato of the strings in the Scherzo. The bleak mystery of the Adagio was well conveyed and the finale emerged from B minor into radiant D major before exploring the emotional complexities at its heart.
TIM HOMFRAY
Photo: courtesy Wigmore Hall