The violinist praises Swedish role models, from the stories of Pippi Longstocking to environmental campaigner Greta Thunberg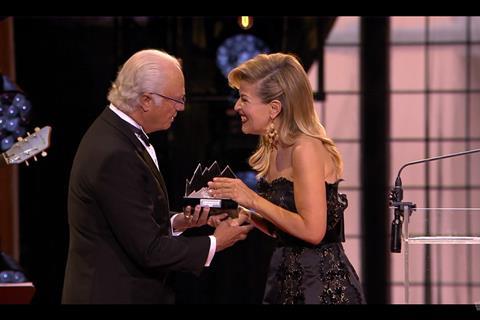 German violinist Anne-Sophie Mutter received the Polar Music Prize at a ceremony held in Stockholm yesterday evening.
The prize, administered by the Royal Swedish Academy of Music since 1992, includes 1m Swedish Krona (c. £83,000/$106,000) for each winner, and is usually awarded to one classical and one pop musician each year. For 2019 it has three laureates, with Mutter joined by hip hop pioneer Grandmaster Flash and the Playing For Change Foundation, which provides music education in developing countries.
In her acceptance speech (see video below), Mutter highlighted some Swedish role models, including Queen Silvia of Sweden, who was present at the ceremony, for her role as co-founder of the World Childhood Foundation.
Mutter also mentioned the 'incomparable' author Astrid Lindgren, creator of the Pippi Longstocking stories. The 'strong-willed, independent, witty, stubborn young girl', Mutter noted, 'has been a role model for me since I was growing up'.
'She was so different, and determined to find her own path in a creative way in life. Living her own dreams, and daring to be different: at the time when I first read the Pippi Longstocking stories, that was not taken for granted as a girl and a woman.'
'Were I a child today I would still admire Astrid Lindgren and I would fall in love with Pippi Longstocking, but I would also consider Greta Thunberg an exciting and shining example.
'Even as an adult I admire her consequent activism and her courage..
'I am simply overwhelmed by the honour and acknowledgment which you, who are responsible for the Polar Music Prize, are bestowing upon me. This distinction fills me with pride and joy, as you are permitting me to join the ranks of the wonderful musicians who have previously received the prize. I admire many of them profoundly, for example Witold Lutosławski, Sofia Gubaidulina, Ennio Morricone, Dizzy Gillespie and Mstislav Rostropovich, to name just a few.
'Anne-Sophie Mutter is a musical phenomenon,' said the award citation, read by Deutsche Grammophon CEO Frank Briegmann.
'For more than 40 years the German violinist has thrilled audiences around the world with her virtuosity and astonishing clarity. The four-time Grammy Award winner is equally committed to the performance of traditional and modern composers, to date she has played the world premieres of 26 works, and has had many pieces composed for her.
'As well as a packed international concert calendar, Anne-Sophie Mutter dedicates herself to numerous benefit projects and through her two charitable institutions supports future generations of musicians.'
Previous string players to win the prize include Mstislav Rostropovich in 1995 alongside Elton John, Isaac Stern in 2000 alongside Bob Dylan, the Kronos Quartet in 2011 alongside Patti Smith and, most recently, Yo-Yo Ma in 20122 along with Paul Simon.