The German violinist is one of three laureates for 2019, along with hip hop DJ Grandmaster Flash and the Playing For Change Foundation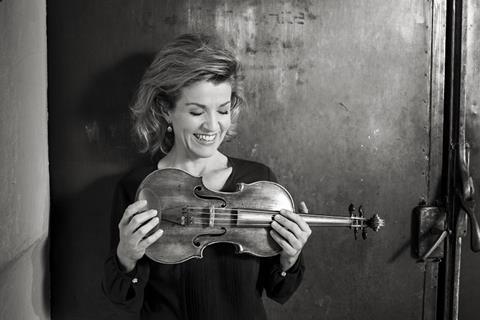 Anne-Sophie Mutter was today announced as a 2019 laureate of the Polar Music Prize, an annual award administered by the Royal Swedish Academy of Music since 1992.
The prize, which includes 1m Swedish Krona (c. £86,000/$110,000) for each winner, is usually awarded to one classical and one pop musician each year. For 2019 it has three laureates, with Mutter joined by hip hop DJ Grandmaster Flash and the Playing For Change Foundation.
The awards will be presented at a ceremony in Stockholm on 11 June which will be broadcast live on TV4 at 8pm CET, and aslo throughout Europe on the channel's streaming service.
Mutter said: 'It is a huge honour to be in this illustrious group of musicians who have received the Polar Music Prize. I'm deeply honoured and humbled and I can't wait to come to Stockholm and meet the other recipients.'
Previous string players to win the prize include Mstislav Rostropovich in 1995 alongside Elton John, Isaac Stern in 2000 alongside Bob Dylan, the Kronos Quartet in 2011 alongside Patti Smith and, most recently, Yo-Yo Ma in 20122 along with Paul Simon.
'Anne-Sophie Mutter is a musical phenomenon,' said the award citation.
'For more than 40 years the German violinist has thrilled audiences around the world with her virtuosity and astonishing clarity. The four-time Grammy Award winner is equally committed to the performance of traditional and modern composers, to date she has played the world premieres of 26 works, and has had many pieces composed for her.
'As well as a packed international concert calendar, Anne-Sophie Mutter dedicates herself to numerous benefit projects and through her two charitable institutions supports future generations of musicians.'
The Playing For Change Foundation, founded in 2007, provides music education through 15 projects internationally, mainl in developing countries, reaching 2,000 young people a week.
Marie Ledin, managing director of the Polar Music Prize, said: 'We are delighted to honour three Laureates this year, only the second time we've done so in our 28 year history. In Grandmaster Flash, Anne-Sophie Mutter and Playing For Change, we have three spectacular Laureates; we are all looking forward to welcoming them to Stockholm and paying tribute to their work and talent at the award ceremony on 11 June.'