The 22-year-old violinist also won the award for the best interpretation of a new work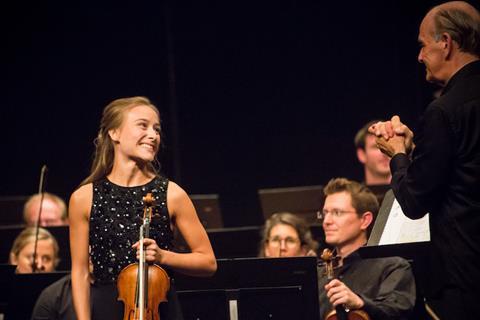 Following a two-part final featuring a chamber music round (joining members of the jury in a piano trio) and a concerto with the Lausanne Chamber Orchestra conducted by Gábor Takács-Nagy, the violinist Anna Agafia Egholm was announced as the winner the Tibor Varga at Ferme-Asile in Sion, Switzerland. The 22 year-old Danish violinist, who was also a finalist in the Carl Nielsen Competition earlier this year, receives CHF20,000 (c. $20,000) plus concert opportunities.
In addition, Egholm received the Tibor Varga Award, for the best interpretation of the new work: RI-trato by Heinz Holliger.
2th prize went to the 19-year-old Danish violinist Adam Koch Christensen while 3rd prize was awarded to the 24-year-old Polish violinist Roksana Kwaśnikowska.
Egholm, who has just completed her master's degree at the University of Music in Lausanne in the class of Svetlana Makarova,has performed as a soloist with ensembles including the Danish National Symphony Orchestra, the Bergen Philharmonic Orchestra, Malmö Symphony Orchestra and the Filarmonica de Stat Transilvania. On Saturday evening she played Beethoven's D major concerto.
Sitting on this year's jury panel were Georges Starobinski (chair), Pavel Vernikov, Qian Zhou, Krzysztof Wegrzyn, David Takeno, Gilbert Varga, and Eva Zurbrügg.
Previous edition prize winners include Ji Won Song and Paul Huang. In its previous edition in 2017 the competition did not award a first prize.