Former winner Antje Weithaas and Oliver Wille will take on joint artist directorship of Hanover-based competition for eleventh edition in 2021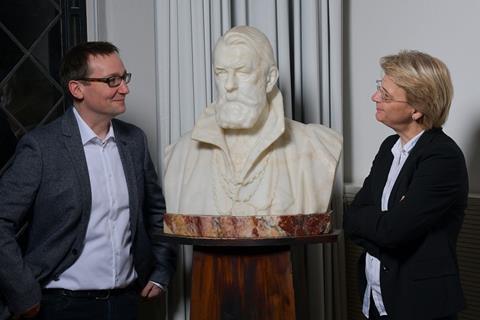 The Joseph Joachim International Violin Competition in Hanover, Germany, has announced violinists Antje Weithaas and Oliver Wille as new artistic directors.
The triennial competition suffered some controversy in its 2018 edition, due to the founder and former artistic director Krzysztof Wegrzyn having a pupil among the finalists. No link has been suggested between that and today's announcement, and Wegrzyn will 'remain closely connected to the competition as Honorary President'.
Wegrzyn said in a statement: 'Over the last 27 years, the Joseph Joachim Violin Competition has helped shape the careers of many young violinists. At the same time, it has enriched my own life in music tremendously. With great confidence, I now place the future of the competition in the hands of Antje Weithaas and Oliver Wille.'
In recent years the competition has been among the highest value wins on the circuit, offering its first prize winner €50,000 plus the three-year loan of a c.1765 Guadagnini violin, as well as concert engagements and a CD recording with Naxos.
Lavinia Francke, general secretary of the Stiftung Niedersachsen (the state cultural foundation of Lower Saxony, for which the competition represents the single largest project) commented: 'Since 1991, Professor Krzysztof Wegrzyn has shaped the competition with a total of the seasons, having created a representative project for promoting exceptional young classical musicians.
'It is of great importance to Stiftung Niedersachsen to preserve the competition, develop it further, and take it into the future. With Antje Weithaas and Oliver Wille, we will achieve just that.'
Weithaas was the winner of the first Joseph Joachim Violin Competition held in 1991. She is currently artistic director of the Camerata Bern and discography includes complete sets of the Bach Sonatas and Partitas and the Ysaÿe Solo Sonatas.
Oliver Wille is a founding member of the Kuss Quartet and professor of String Chamber Music at Hanover's University of Music, Drama and Media. He is also artistic director of the Hitzacker Summer Music Festival.