The violinist was amongst those honoured at a Royal College of Music Ceremony today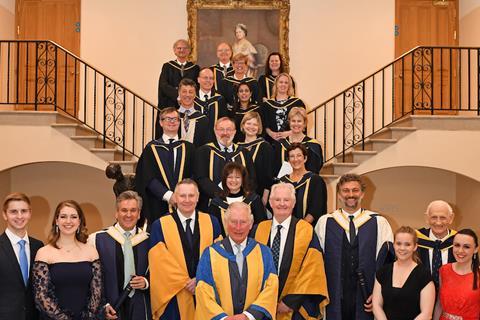 The violinist Alina Ibragimova was amongst those honoured by the Prince of Wales at a Royal College of Music ceremony today. Among her fellow honorees were conductor Sir Antonio Pappano and tenor Jonas Kaufmann, both of whom were awarded honorary doctorates from the conservatoire. Others included the composers Debbie Wiseman, Rachel Portman, conductor Martyn Brabbins, jazz trumpeter Mark Armstrong, pianist Elizabeth Burley, harpsichord player Terry Charlston, horn player Simon Raynor and pianist Kathryn Stott.
Held in the conservatoire's Blomfield Building in South Kensington, the ceremony marks Prince Charles's 27th year as President of the Royal College of Music. As part of his annual visit to the College, he also had a 'sneak peak' of the newly-built Royal College of Music Museum, a new permanent home for the RCM's internationally significant collection of musical instruments and music-related art, opening to the public in summer 2020.
Here he heard Augustin Cornwall-Irving, a David Laing Scholar studying with Jakob Lindberg, perform from the original autographed manuscript of the Welde Lute Book, an important 17th century collection of English lute works on long-term loan to the RCM Library.
Professor Colin Lawson, Director of the Royal College of Music, said: 'The President's visit is always a significant moment in the Royal College of Music's calendar and this year we honour some exceptional musicians, including some of the biggest names in the world of opera, and two of the foremost film and TV composers of our generation. I hope our talented students continue to be inspired by the wonderful musicians we honour each year and aspire to reach similar heights of musical success.'