A number of performances - many of them streamed - will pay tribute to the Russian composer over the next month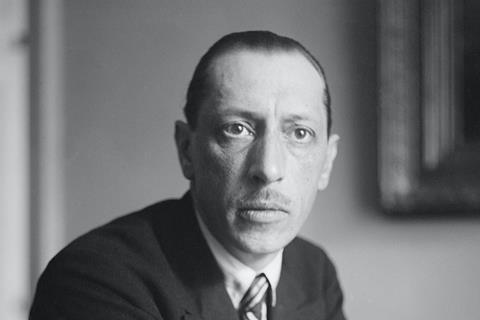 The 50th anniversary of Igor Stravinsky's death on 6 April 1971 is to be marked over the coming month with performances – many of them streamed due to the pandemic - as well as new publications including his Two Sketches for a Sonata, and an array of recordings in newly compiled box sets.
Here are a selection of performance and radio highlights:
3-6 April, Mariinsky in St Petersburg and Moscow, Days of Stravinsky
On 5 April the Mariinsky travels to the Zaryadye Hall in Moscow for two concerts containing the three early Stravinsky ballets and on 6 April the orchestra returns to St Petersburg for an anniversary performance of Symphony of Psalms conducted by Valery Gergiev.
For more information, click here
6 April, Royal Liverpool Philharmonic, streamed anniversary concert
Vasily Petrenko conducts a celebratory concert on the anniversary itself, featuring Apollo and the Concerto for Piano and Winds with soloist Steven Osborne. The concert will be available streamed on demand for 30 days from 6 April, and on the evening there is a pre-concert introduction and a post-concert session on Zoom.
For more information, click here
6 April, Cologne Gürzenich Orchestra, streamed Stravinsky Marathon
François-Xavier Roth has curated a three-concert event streamed from three venues: the Cologne Philharmonie, the Museum Ludwig and Papa Joe's Klimperkasten jazz bar. Repertoire includes Symphonies of Wind Instruments, Capriccio for piano and orchestra, Divertimento from The Fairy's Kiss, Octet and Ragtime.
For more information, click here
6 April, Deutsches Symphonie Orchester Berlin, anniversary broadcast
Players from the Deutsches Symphonie Orchester explore Stravinsky's connections with composers at the Ecole de Paris. The programme includes Stravinsky's Octet and music by Antheil, Ibert, Laks, and Mihalovici.
For more information, click here
Watch Ravel's Sonata for Violin and Cello – complete with mechanical toys
Read How did David Oistrakh's interpretations evolve over his lifetime?
6-11 April, Elbphilharmonie Hamburg, NDR Stravinsky Online Festival
The week-long Hamburg festival devoted to Stravinsky's association with the NDR Orchestra has been turned into a series of livestreams. On 6 April Philipp Ahmann conducts a programme of choral works including Gesualdo and Monteverdi arrangements alongside Symphony of Psalms. On 10 April Alan Gilbert conducts Apollo and the Concerto for Piano and Winds with soloist Kirill Gerstein and celebrations wrap up with a jazz concert from the NDR Bigband.
For more information, click here
10 April, BBC Radio 3, Stravinsky Day
BBC Radio 3 broadcasts a week of Stravinsky features culminating in a complete day devoted to his music on Saturday 10 April. Among the highlights is a curated five-and-a-half-hour River of Music Stravinsky sequence presented by Sarah Walker, together with features on Record Review and Music Matters and a broadcast of The Rake's Progress. In the lead-up to the day is Composer of the Week running daily between 5 and 9 April with Donald Mcleod. All programmes included in Radio 3's Stravinsky 50 will be available on BBC Sounds for 30 days after initial broadcast.
For more information, click here
30 April and 14 May, Minnesota Orchestra, Stravinsky livestreams
The Minnesota Orchestra's Friday livestream series includes two Stravinsky works: Pulcinella Suite conducted by Fabien Gabel and Symphonies of Wind Instruments with Osmo Vänskä on the rostrum. Publication of Two Sketches for a SonataFor the first time, Boosey & Hawkes is publishing Stravinsky's Two Sketches for a Sonata dating from 1966. This digital publication contains a facsimile of the manuscript housed in the Paul Sacher Foundation in Basel, a modern note-set version of the two piano fragments, and a preface by Jonathan Cross.