The development of the great violinists from fresh young artists to profound musical thinkers can be charted through their recorded interpretations. Nathaniel Vallois uses his time in lockdown to examine changes in the playing style of some of the best-known names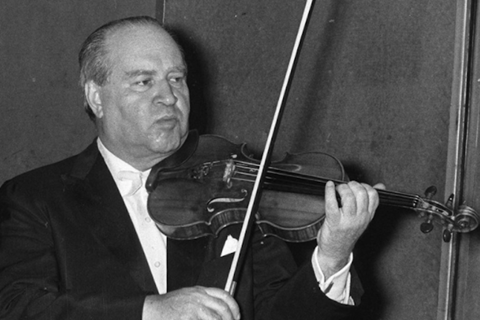 The following is an extract from an article in The Strad's December 2020 'Willemotte' Stradivari issue. To read in full, click here to subscribe and login. The December 2020 digital magazine and print edition are on sale now.
David Oistrakh's recordings from the 1930s and early 1940s showcase his sweetness (Kreisler's Liebesleid) and elegant brilliance (Sarasate's Carmen Fantasy), and his humane radiance shines forth in Myaskovsky's freshly composed Violin Concerto, which was dedicated to him. He never lost those qualities, of course, but as he navigated the turbulent waves of the Soviet Union, weightier, more profound and angular dimensions emerged. His wholehearted espousal of Prokofiev's F minor Sonata (in particular), Bartók's First Sonata, Ravel's Sonata in G major and Hindemith's and Stravinsky's concertos formed the benchmarks of his artistic journey.
Read: Remembering the great violinist David Oistrakh
Watch: David Oistrakh performs Debussy's The Girl with the Flaxen Hair
Read: 'Tone virile and fine. Personality less striking' – Carl Flesch on David Oistrakh's playing
Most crucial was his close association with Shostakovich: while Oistrakh was at pains to avoid being an explicitly political artist, his role in the genesis of both concertos and the late sonata was surely telling. His interpretations of these works became increasingly visceral, his lyricism charged with urgent force rather than sorrowful resignation. In duo partnerships with Frida Bauer and Paul Badura-Skoda he achieved an ever deeper concentration of the musical discourse, while recitals with Sviatoslav Richter unleashed – in the Brahms D minor and Franck sonatas, and the aforementioned ones by Bartók, Prokofiev and Shostakovich – music making of staggering emotive impact
This article was published in the December 2020 'Willemotte' Stradivari issue

The late-period violin's strong personality is the perfect match for its current owner Leonidas Kavakos. Explore all the articles in this issue. Explore all the articles in this issue

More from this issue…