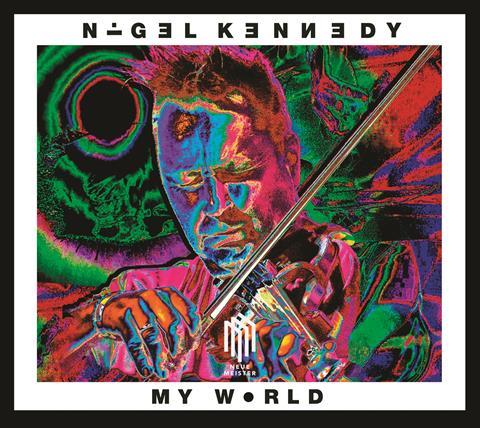 The Strad Issue: March 2017
Description: Nigel Kennedy turns composer as he invites us into his world
Musicians: Nigel Kennedy (violin), Orphy Robinson (percussion), Adam Czerwinski (drums), Doug Boyle, Julian Buschberger, Rolf Bussalb (guitars), Tomasz Kupiec (bass guitar), Oxford Philharmonic Orchestra
Composer: Nigel Kennedy
Catalogue number: NEUE MEISTER MUSIK LCD6203
In many ways, the title says it all. Nigel Kennedy's My World marks the first time that the iconoclastic violinist has released his own compositions on disc – and, perhaps not unexpectedly, it's a deeply personal collection of music, one that draws strongly on his own individual enthusiasms: jazz and rock, Yehudi Menuhin and Stéphane Grappelli, a bit of Indian music thrown in for good measure, all of it lavishly produced with thick, multilayered textures of instruments and electronics. It's thoroughly likeable stuff, strangely naive in its wilful disregard for fashion, but with a hint of provocation, too: it's as though this is Kennedy's musical world, and if you don't get it, that's your problem.
The disc's highlights are his five Dedications – lush, tuneful pieces that straddle pop, jazz, folk and easy listening – in which the violinist doffs his cap to influential figures in his musical life. The first of them, 'Dla Jarka' (for Jarek Smietana), has a genuinely touching, memorable jazz tune at its heart, with nods to the Beatles in its 1960s-style sound world and plenty of Eastern-influenced minimalist repetitions too. The long suite of music that Kennedy has assembled from his score to a staging of Chekhov's Three Sisters is simply too eclectic to be truly successful: with its heavily processed violin, distorted rock guitar solos, Russian gypsy music and ambient electronic soundscapes, you can only wonder at how the production might have made sense of it all.
Ironically, if there's one thing missing from My World, it's the playing of Kennedy himself. He emerges from its dense textures on occasion in assertive, strongly projected solos, but mostly his violin is very much embedded within the disc's jazz group, orchestra and electronics.
David Kettle