The Strad's editor Charlotte Smith introduces the May 2020 issue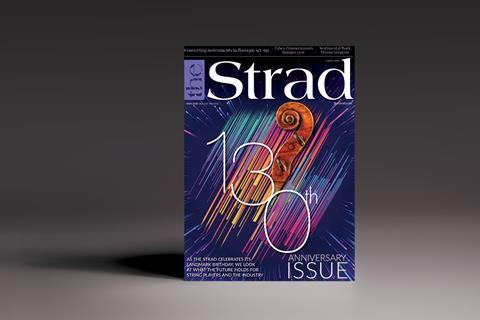 We are living in unprecedented times. As The Strad celebrates its 130th anniversary, and we look back to our first issue in May 1890, it is difficult to remember another moment so potentially damaging to the livelihoods of performers and makers. Even in wartime, music has played a central role as the lifeblood of nations, with performances continuing to lift hearts and minds in the darkest of hours. Now that Covid-19 has forced concert halls to close, and musicians worldwide face perhaps months away from the stage, will the band no longer play on?
Well no. The year 2020 is also an age of advanced digital technology, and performers, teachers and makers are already finding ingenious ways, particularly through online streaming, to bring live music to the living rooms of a population confined to their homes. See Peter Somerford's Analysis article on page 12 for a rundown of how the string world is adapting to these rapidly changing circumstances.
So, as The Strad team works entirely from home for the first time to put together remotely our May 2020 issue, we take stock of the string world as it currently stands and look to the future of playing and making, including all the advantages that technology can bring. On page 26 Philip Kass turns his learned eye to developments in the world of lutherie and trade, while on page 30 Charlotte Gardner looks at performing trends, from the slick, populist videos of Sheku Kanneh-Mason to those young artists looking back to historically informed performance practices in order to forge ahead.
A final thought to our colleagues in Cremona which, owing to its location in Italy's coronavirus epicentre of Lombardy, is enduring a severe and vital lockdown as we go to press. Through good times and bad, the birthplace of Stradivari has continued to thrive – and we have no doubt that the city's army of violin makers will emerge from this crisis stronger than before. Until that time, The Strad, as a truly global publication, will continue to bring the string world together.
Charlotte Smith editor
Email me at thestrad@thestrad.com or tweet @TheStradMag
This article was published in the May 2020 130th Anniversary issue

The Strad marks its 130th anniversary with a look at the future of string playing and the violin industry. Explore all the articles in this issue.

More from this issue…