The Strad's editor Emma Baker introduces the October 2023 issue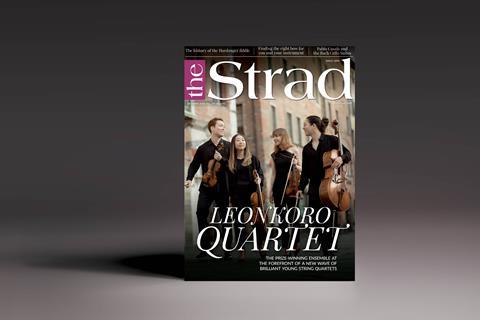 The Leonkoro Quartet, featured in our cover story this issue, may have only been founded in 2019, but the ensemble has already made a considerable impact, sweeping the board in recent competitions, attracting the attention of major promoters and now releasing a debut album. These four musicians are not going it alone, however; they are at the head of a particularly talented group of young string quartets emerging on to the post-pandemic scene.
On page 24 Peter Somerford speaks to the foursome about what it takes to be a successful quartet in this day and age: a tale of hard work and challenging choices as well as the sheer joy of collaborative music making.
This issue also sees a focus on the bow – considered by many players to be the soul of the instrument. On page 36 Jacqueline Vanasse talks to a variety of players about what they look for in a bow, and for Making Matters on page 66 we turn the spotlight on maker Markus Laine, and discover how he approached a commission to make no fewer than 15 transitional bows for the members of one chamber orchestra.
October marks 50 years since the death of the great Pablo Casals. On page 44 Oskar Falta takes a close look at the cellist's legacy, particularly in relation to the Bach Cello Suites, which he famously brought out of relative obscurity over a century ago.
This month's issue also heralds the publication of The Strad Calendar 2024. The focus for the year falls on the instruments of the Fulton Collection – the life's passion of US software engineer and violinist David L. Fulton. On page 50 Christian Lloyd takes us on a tour of some of these priceless treasures.
Emma Baker editor
Email me at thestrad@thestrad.com or tweet @TheStradMag