The Strad's editor Emma Baker introduces the August 2023 issue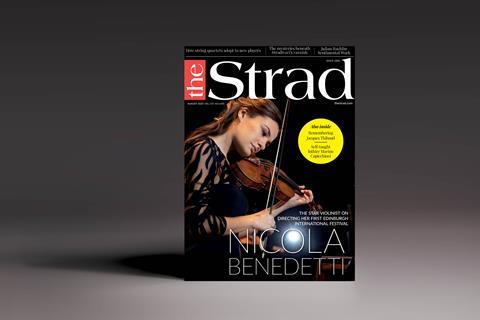 As if sustaining the levels of excellence needed for a career as a top soloist and chamber musician didn't require enough hard work and dedication, the Scottish violinist Nicola Benedetti has now taken on one of the biggest roles in the world of arts administration: director of the Edinburgh International Festival (she is the first woman and the first Scot to do so). Her inaugural festival season kicks off this month and on page 24 she tells Rebecca Franks about what she hopes to achieve, and why the need to throw herself into immense artistic challenges seems to be written into her DNA as a musician.
The first day of September marks 70 years since the death of the French violinist Jacques Thibaud, one of the greatest players of the 20th century. On page 46 Tully Potter looks back at his life, and considers his continuing influence on the Franco-Belgian school of playing and beyond.
String quartets are a tightly knit symbiotic musical entity, so what is the effect on the sound and character of a group when one – or more – of its members is replaced? Is it still the same ensemble? And how does the change affect the remaining musicians? On page 38 Peter Quantrill considers these questions and speaks to several quartet members who have personal experience of a situation that will almost inevitably arise during a long-standing ensemble's existence.
In lutherie this issue, on page 32 Lorenzo Frignani examines the work of the 20th-century Italian maker Marino Capicchioni. He was largely self-taught and worked most of his life in Rimini, away from the influence of any other luthiers, but his instruments were played and praised by David Oistrakh, Yehudi Manuhin and the Boccherini Quartet among others. And on page 52, Giacomo Fiocco explores some innovative, non-invasive methods recently developed to discover just what materials the great Cremonese masters, including Stradivari, used to prepare their wood before varnishing their instruments.
Emma Baker editor
Email me at thestrad@thestrad.com or tweet @TheStradMag