The Strad's editor Emma Baker introduces the September 2023 issue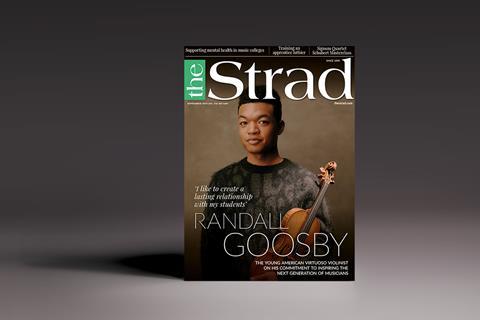 September may herald the end of summer, but it also signals the start of the new concert season and the academic year. Here at The Strad we traditionally mark the month by celebrating learning and education in all their forms. On our cover is the brilliant 27-year-old American violinist Randall Goosby. His star is truly in the ascendant with two albums for Decca under his belt and an array of high-profile concert dates. But despite his relative youth, he is already deeply committed to passing on what he has learnt to the younger generation. On page 32 he speaks to Amanda Holloway about mentoring young string players, taking music into the community and being an ambassador for diversity in classical music.
Music college is an exciting but high-pressured environment for the budding professional musician. Even the most talented and conscientious student will experience moments of anxiety and self-doubt. On page 58 Rita Fernandes examines the mental health provision in conservatoires; it's gratifying to discover that more of them are increasingly focusing on a holistic approach to producing happy and well-balanced student musicians, well prepared to enter professional life in the music industry.
Taking on an apprentice luthier can be an intense experience too, and involves much care and responsibility on the part of the professional. On page 50 violin maker Sarah Kluge shares her tried-and-tested methods for training an apprentice all the way from student to journeyman, while maintaining a functional and harmonious workshop. Her article includes a useful checklist for any other professional makers who may be accepting apprentices into their team.
And what of the older learner? Billy Tobenkin is living proof that it's never too late, having started the cello from scratch aged 25. Now a professional player and teacher, on page 42 he shares his thoughts about choosing repertoire for the adult cello student, and argues why diving straight into classic works such as Bach's G major Prelude – as long as some adjustments are made – could give the mature learner exactly the motivation they need.
Emma Baker editor
Email me at thestrad@thestrad.com or tweet @TheStradMag