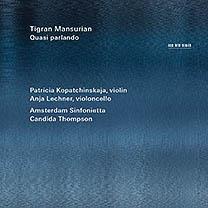 THE STRAD RECOMMENDS
The Strad Issue: January 2014
Description: Visceral playing on a disc celebrating an Armenian composer's 75th birthday
Musicians: Patricia Kopatchinskaja (violin) Anja Lechner (cello) Amsterdam Sinfonietta/Candida Thompson (violin)
Composer: Mansurian
It's hard to imagine a richer, more persuasive match between performers and music than that revealed on this remarkable, profoundly moving new disc.
Moldovan violinist Patricia Kopatchinskaja plays with an intensity that's sometimes frighteningly raw, as if every note comes from deep within her. And while Anja Lechner can't quite match Kopatchinskaja's startling expressiveness, the German cellist's playing is vivid, sometimes forceful, and always hugely passionate.
They're all qualities that bring the necessary authenticity and sincerity to these deeply serious, sometimes anguished works by Armenian composer Tigran Mansurian (b.1939), whose mystical, highly expressive sound world draws together a darkly chromatic harmonic language with a sense of spiritual yearning.
Kopatchinskaja seems entirely immersed in the broad dramatic arc of the meditative Double Concerto, delivering a high-voltage account in which Lechner matches her eloquent sculpting of phrases. The Romance for violin and strings drips with sadness and bristles with anger, yet Kopatchinskaja recounts its slowly unfolding story with effortless eloquence and sure technical skill. There's more captivating storytelling from a restless Lechner in the recitative-like Quasi parlando.
Mansurian's Four Serious Songs, which in effect form his second violin concerto, are unremittingly dark in their preoccupation with death, and Kopatchinskaja's playing is beautifully responsive to the music's shifting moods, from the fearfully hesitant to the screamingly furious.There's strong support from an impeccably turned Amsterdam Sinfonietta led by Candida Thompson throughout, and recorded sound is close, warm and truthful. The disc makes for a tough, emotionally demanding listen, but it's all the more cathartic for that.

Clip: Masurian Double Concerto: mvt 1
David Kettle