Leah Hollingsworth attends New York's Merkin Concert Hall, Kaufman Music Center, on 22 September 2022 for the performance of Reena Esmail, Debussy and Beethoven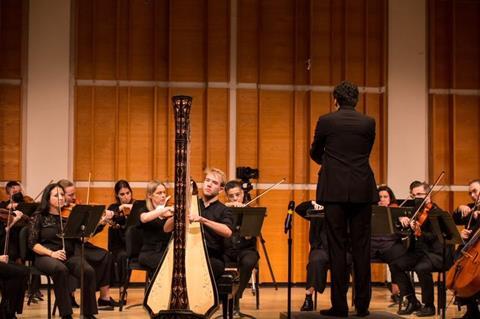 Parlando, a group 'dedicated to creating educational and accessible listening experiences by integrating dialogue with historical and musical context in short classical concerts' was founded in 2019 by conductor Ian Niederhoffer. September's performance in Merkin Hall was packed and received enthusiastic applause at every turn; clearly it's doing something right (beyond the free cookies handed out afterwards).
Niederhoffer's remarks before each work were just what he claimed they would be: educational and accessible, illuminating not only the pieces being performed but also the reasons behind their inclusion in the programme.
Reena Esmail's work Teen Murti began with well-played solos by the principal strings before moving into an energetic section with resonant pizzicato in the cellos and basses and a memorable second theme introduced by the violas. A return to the opening material featured an extensive solo by principal cellist Diana Golden.
Harpist Parker Ramsay's knowledgeable introduction to Debussy's Danse sacrée et danse profane was a treat but even more so, his mesmerising and virtuosic performance. This was followed by a string-orchestra arrangement of the two last movements from Beethoven's op.130 String Quartet; while I personally much prefer this work as originally intended, especially in the case of the Cavatina, the Grosse Fuge came across compellingly. It takes a certain amount of energy and articulation to keep 24 instrumentalists from simply sounding overly heavy and Niederhoffer achieved this, with the lyrical moments played with shape and character. A Massenet encore concluded the evening with a rich and tender string sound.
LEAH HOLLINGSWORTH