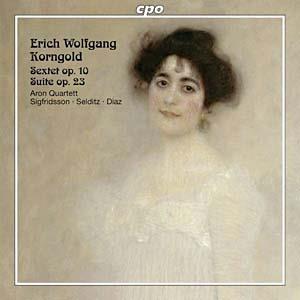 The Strad Issue: January 2014
Description: Generally successful performances of Korngold chamber works
Musicians: Aron Quartet, Thomas Selditz (viola) MÁ rius Diaz (cello) Henri Sigfridsson (piano)
Composer: Korngold
Like the Doric Quartet before it (Chandos; see reviews in November 2010 and May 2012), the Aron Quartet builds on the success of its own cycle of Korngold's string quartets (reviewed September 2010) with a follow-up of the Sextet and, in this case, the Suite for piano left-hand, two violins and cello. The 17-year-old composer's precocious Sextet complements the better-known works in the medium by Brahms, Schoenberg and Tchaikovsky with its youthful vitality and novel textures. The Aron and friends make light of the music's leaping melodies and many rhythmical complexities (Korngold loved to ignore bar-lines), never losing sight of the music's form and sense of line, and in CPO's rich recording they produce a well-upholstered sound.
The unusual scoring of the Suite from 1929 was the composer's solution to the balance problem of only having a single-handed piano part (it was a commission from one-armed pianist Paul Wittgenstein), and Henri Sigfridsson's piano still tends to over-dominate the textures at times. Yet all the players take their turn in the limelight in this typically Viennese take on the Baroque suite, with its Waltz and almost Bartókian 'Groteske' among its movements. The three Aron members contribute plenty of gutsy but lithe string playing, capped by an awe-inspiring cello glissando at the height of the Lied.


Matthew Rye