The Strad's editor Charlotte Smith introduces the June 2020 issue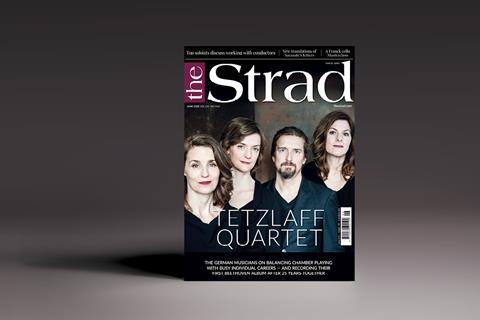 For most string quartets, chamber playing is a full-time job. The four members spend hours rehearsing, travelling and performing together, perfecting their musical roles and relationships across sustained periods. For the Tetzlaff Quartet, however, this is not the case. Although violinists Christian Tetzlaff and Elisabeth Kufferath, violist Hanna Weinmeister and cellist Tanja Tetzlaff established their ensemble more than 25 years ago, the time they spend playing as a group in any given year is far less than the norm.
Instead, the four musicians balance one or two intense bursts of collective rehearsal and performance each season with busy individual solo, chamber and orchestral careers. It's a set-up that keeps things fresh, but which also requires a deep level of concentration during their brief periods of time together. On page 24 the players talk to Tom Stewart about their working dynamic, and about the important step of making their first Beethoven recording as a quartet.
Elsewhere, this issue reflects the continuing impact of Covid-19 on the musical world. The crisis has, for the time being, necessitated the removal or reduction of The Strad's regular live music sections, including Premiere of the Month, Competitions and Concert Reviews. But, of course, we will never stop celebrating music's ability to improve and transform lives. On page 42, the rapturous response received by Pablo Sarasate throughout his 1870–2 concert tour of North and South America is described in the violinist's own words – translated from letters by Nicholas Sackman and Bastien Terraz for the first time. While on page 48, Gennady Filimonov's examination of bows from the courts of Napoleons I and III includes Bonaparte's own assertion: 'Among all the fine arts… music is the one that exercises the greatest influence upon the passions.' Witnessing the wonderful array of digital performances and masterclasses on offer from lockdown every day, we couldn't agree more.
Charlotte Smith editor
Email me at thestrad@thestrad.com or tweet @TheStradMag