The Strad's editor Emma Baker introduces the November 2023 issue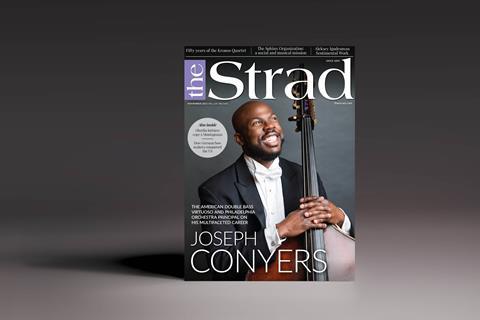 America is a nation blessed with great diversity, but also troubled by great inequality. In the case of classical music, one nonprofit has done more than any other to redress the balance: the Sphinx Organization, working tirelessly to give children and young people of colour a platform to discover and play classical music. Twenty-six years since Sphinx was founded by Aaron Dworkin, its positive influence continues to grow, and its alumni occupy every corner of the US classical musical landscape. Bruce Hodges traces its history on page 32.
Our cover star, double bassist Joseph Conyers, is one of the many musicians to have benefited from Sphinx, as a laureate of its 2004 competition. Now, with his recent appointment as the first black principal bassist of the mighty Philadelphia Orchestra, he continues his groundbreaking work, not only as a player but as a mentor. David Kettle talks to him and discovers something of his irrepressible energy on page 24.
America is a land historically populated by immigrants, and on page 54 Raphael Gold traces a fascinating history of how, and why, so many German bow makers made the journey to the New World in the late 19th century – some staying for just a few years, some permanently – and how their influence shaped the history of the bow making industry in the US.
Last but not least in our US-themed November issue, The Strad celebrates a string quartet that has been at the forefront of new and experimental music for an almost unbelievable 50 years – the Kronos Quartet. Thomas May speaks to founding violinist David Harrington and former cellist Joan Jeanrenaud on page 46 about the group's history, and its ambitious programme for its anniversary season.
Emma Baker editor
Email me at thestrad@thestrad.com or tweet @TheStradMag