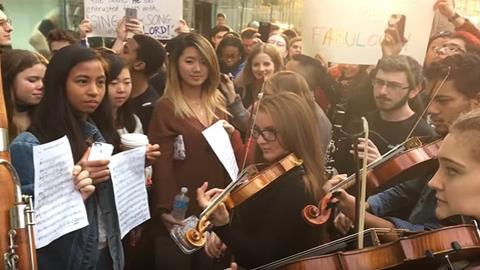 Between 60 and 100 Juilliard School students confronted three protesters from the Westboro Baptist Church with music and singing this morning. The church, which regularly stages racist and homophobic protests, targeted the New York school 'where vanity and pride rule,' according to a press release on its website.
The hour-long event took place outside the school's 65th Street entrance. Students and protesters were kept in separate police pens, according to Playbill, and performed songs including The Star-Spangled Banner, When the Saints Go Marching In and Amazing Grace. Around a dozen police monitored the protest.
Yesterday Juilliard's chief security officer Carl Young urged students to ignore the protest on its dedicated student Facebook page:
'While we respect any group's right to assemble lawfully and peacefully, Juilliard will not dignify Westboro Baptist Church's hate-filled messaging by responding to their requests for attention. We strongly recommend that students, faculty, and staff ignore this demonstration and not amplify their message by giving them the attention they seek. As always, the school is committed to strengthening our community through inclusion and acceptance,' he wrote.
Watch Juilliard students performing outside the school at today's protest below: