Each of the three finalists performed Mozart's Fifth Violin Concerto on 12 May in Augsburg, Germany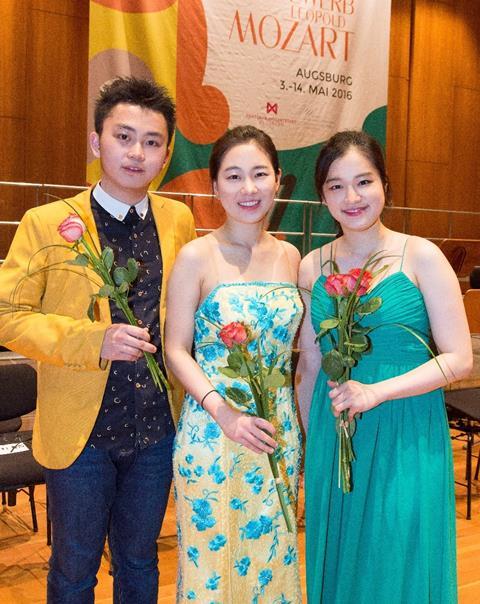 Ji Won Song (pictured, centre) has been named the winner of the 9th Leopold Mozart International Violin Competition following the final held in Augsburg, Germany in which three soloists each performed Mozart's Fifth Violin Concerto. The South Korean violinist, who won the $50,000 China International Violin Competition in 2014, receives €10,000, a CD recording and concert opportunities, in addition to the €2,000 audience prize. Song is currently studying at the New England Conservatory with Soovin Kim and Donald Weilerstein.
Second prize, worth € 7,500, was awarded to 16-year-old Ziyu He from China, who just last month won the Menuhin Competition 2016 Senior Final and in 2014 won the Eurovision Young Musicians competition. He also received the €1,500 special prize for the best performance of the commissioned work.
Third prize, worth €5,000, went to Jae Hyeong Lee, who also received the €1,500 Youth-Jury-Prize.
Sitting on the 2016 jury were Paul Roczek, Achim Fiedler, Suzanne Gessner, Vladimir Ivanov, Min Kim, Senta Kraemer, Gyorgy Pauk, Baiba Skride, Wei-Dong Tong and Petru Munteanu.
For full details visit the Leopold Mozart Violin Competition website.
Read: Leopold Mozart International Violin Competition names five semi-finalists
Photo: the three Leopold Mozart Competition finalists, Ziyu He, Ji Won Song and Jae Hyeong Lee © Christina Bleier