Twelve violinists will proceed to the competition's second round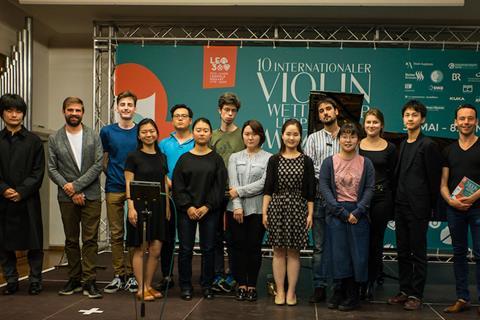 The 10th international Leopold Mozart Violin Competition, held in Augsburg, Bavaria, has announced the competitors proceeding to the second round, which starts today.
The competitors are:
Joshua Brown (USA)
Karisa Chiu (USA)
Alexander Won-Ho Kim (South Korea)
Issei Kurihara (Japan)
Kunwha Lee (South Korea)
Kaoru Oe (Japan)
Yun Tang (China)
Chinatsu Tatsumi (Japan)
Jaewon Wee (South Korea)
Simon Wiener (Switzerland)
Milena Wilke (Germany)
Julen Zelaia (Spain)
Four violinists have received the €500 'Youth Development' prize:
Hyojin Kan (South Korea)
Naoko Nakajima (USA/Japan)
Hsin-Yu Shih (Taiwan)
Sara Zeneli (Italy)
In addition, the €1500 prize for the best interpretation of the commissioned work - Soleos by Elżbieta Sikora - has been awarded to the Spanish violinist Julen Zelaia.
Founded in 1987, the triennial competition is named for Wolfgang Amadeus Mozart's father, Leopold, who was born in Augsburg and who was an invaluable teacher to his famous son. The year Wolfgang Amadeus was born, Leopold Mozart launched his important Violin School in Augsburg - a school that, thanks to historical performance practice, has experienced a renaissance in recent years.
Open to international violinists aged 15-30, the competition, which this year runs from 31 May to 8 June 2019, offers cash prizes of €20,000, €12,000 and €9,000 to its top three winners, as well as a CD recording and a broad selection of performance invitations.
It is the first competition under the directorship of violinist Linus Roth, who made some major changes to its regulations, including that current and former students of jurors and the artistic director are excluded from the competition, and that chamber music is now an element.
The 2019 jury comprises: Benjamin Schmid (Chairman), Friedemann Eichhorn, Liza Ferschtman, Sabine Frank, John Gilhooly, Ulf Hoelscher, Danjulo Ishizaka, Nils Mönkemeyer, Christian Poltéra, Marco Rizzi, Erik Schumann, Remy Franck, Jens F. Laurson and Anna Picard.
Past winners include Benjamin Schmid, Lena Neudauer and Isabelle Faust, who was awarded 1st prize in the competition's very first year.