Violin Concertos in A minor BWV1041 & E major BWV1042, Concerto for violin & oboe in C minor BWV1060, Violin Sonatas no.3 in E major BWV1016 & no.4 in C minor BWV1017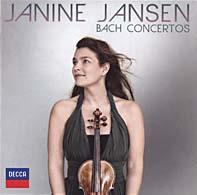 The Strad Issue: January 2014
Description: Unpretentious but confident Bach from a leading violinist and friends
Musicians: Janine Jansen (violin/director) Ramón Ortega Quero (oboe) Jan Jansen (harpsichord) ensemble
Composer: Bach
Titling this issue 'Bach Concertos' is misleading – the disc actually comprises accounts of two of Bach's accompanied sonatas and three concertos involving one violin. Janine Jansen and her father perform the sonatas, in E major BWV1016 and C minor BWV1017, with striking flexibility and expressive subtlety. Highlights include the two sublime slow movements of BWV1016, the sheer gravitas of the opening Siciliano of BWV1017 and the duo's intuitive interaction in the ensuing Allegro. Regrettably, the harpsichord is too distant in the balance.
Jansen's contribution in the A minor and E major concertos is unusually understated, but she gives assured, musical and polished readings, receding into the background whenever the melodic interest is elsewhere. The outer movements, often on the fast side, are infused with crisp articulation, lightness and rhythmic verve, but dynamic variation and ornamentation are limited. The slow movements are allowed full expressiveness without sentimentality.
Oboist Ramón Ortega Quero joins her in an impressive account of BWV1060 featuring much sensitive solo interplay, especially in the central Adagio's flowing dialogue over a sustained organ and largely pizzicato string accompaniment. The orchestral playing is unanimous and clear-textured and the detailed, well-focused recording has plenty of bloom, emphasising the beautiful sonority of Jansen's 1727 'Barrere' Stradivari.






Robin Stowell