Some first-class performances of much-recorded violin cornerstones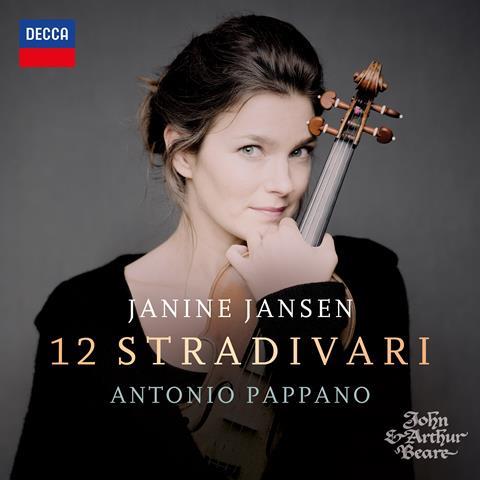 The Strad Issue: November 2021
Description: Some first-class performances of much-recorded violin cornerstones
Musicians: Janine Jansen (violin) Antonio Pappano (piano)
Works: Pieces by Elgar, Falla, Heuberger, Kreisler, Kern, Rachmaninoff, Ravel, C. Schumann, R. Schumann, Suk, Szymanowski, Tchaikovsky and Vieuxtemps
Catalogue number: DECCA 485 1605
This CD and this film together document an extraordinary project, difficult enough to achieve at the best of times, but harder still with a pandemic ready to sabotage it at every turn. Twelve Stradivari violins were brought together from all over the world to be played and recorded, a great idea but a logistical nightmare brought to fruition by Steven Smith, joint managing director of the violin dealers J.&A. Beare, who borrowed them from artists who could spare them for a few days, from collectors and foundations, from people who never normally let them out of their safes, and then had to deal with transport, insurance and all the myriad concerns of moving objects worth millions of pounds around the world. All this we learn from the film.
Waiting for them were violinist Janine Jansen and pianist Antonio Pappano with a set of 15 short pieces to share out between the fiddles, and a film crew to record them doing it (see last issue). The recorded album would be a joy even if Jansen had just stuck with her own Strad, the 1715 'Shumsky, Rode'. There are many arrangements, and Kreisler turns up a lot as composer, arranger and owner of two of the instruments. His version of the 'Danse espagnole' from Falla's La vide breve opens the disc, played on his 1734 'Lord Amherst of Hackney', with Jansen sultry and fiery. She shows tendresse rising to extravagant passion in Suk's Song of love, playing the 1715 'Alard', an instrument admired by everyone. She is languid and beautiful in Szymanowski's first Mythe, with wonderful tone high on the E string of the c.1699 'Haendel', and again in Ravel's Vocalise-etude en forme de habanera (1722 'de Chaponay'). It is all captivating and well recorded, with comparing Strads a wonderful bonus.
The accompanying documentary Falling for Stradivari (dir. Gerald Fox) opens with Jansen on a boat to Stockholm talking of the souls of instruments, and the souls of their old players. This is a recurring theme, as Smith and various makers and collectors discuss in close-up detail such matters as the type of wood Stradivari used in different periods, changes in design, and the particular merits of rarely played instruments. Jansen, seen back on the boat, wonders what she's got herself into. We see Jansen and Pappano rehearsing, deciding which instrument works best with which piece, and finally recording them. Mostly they have great fun, although her hair is frequently in danger of getting under her bow. John Dilworth, instrument maker and author, has the best line. Strads, he says, are like 'little rubber ducks floating on the streams of history'.
TIM HOMFRAY