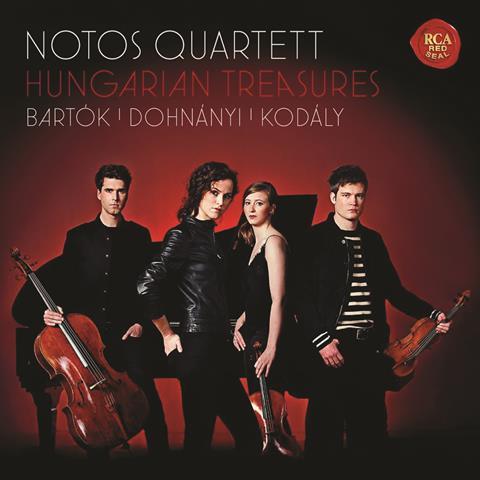 The Strad Issue: May 2017
Description: Composers' youthful periods
Musicians: Notos Quartet
Composer: Bartók, Dohnányi, Kodály
Catalogue Number: SONY 88985411882
'Hidden gems' might have been a more fitting description than 'treasures' in the album title, since these three Hungarian works for piano quartet are seldom heard – but then again the Dohnányi and Bartók pieces are towering works. Both composers were in their teens at the time of writing them and it's fascinating to compare two similarly fecund but contrasting works. Confident, purposeful and somewhat earnest, Dohnányi's Piano Quartet receives a committed performance, the Notos Quartet making no apology for the work's epic quality as regards both structure and expression. It's no surprise that Brahms was sufficiently taken by the piece to arrange its first performance in 1895. Separating the two main works on the disc, Kodály's Intermezzo comes as a palate-cleanser – suaver (something of a divertissement) and more distinctly folk-coloured, despite the Slavonic dance-like feel of Dohnányi's scherzo. The airier texture is a delight, and beautifully captured on a recording that produces an ideal impression of acoustic space while retaining both the detail and the overall blend of the instruments. The Bartók is an eye-opener, not only in its remarkable assuredness (more freewheeling, structurally, and ultimately more lucidly expressive than the Dohnányi), but also in the full-blooded élan that announces the composer, prior to his folk-music experiments, as a card-carrying Romantic. The Notos Quartet is equally responsive to the dark lyricism of the Andante espressivo as to the crashing force of the finale – none of which, of course, sounds faintly like anything we now associate with the Hungarian proto-modernist. The only let-down is the lack of booklet notes, replaced by a rather superficial interview with the quartet.
Edward Bhesania