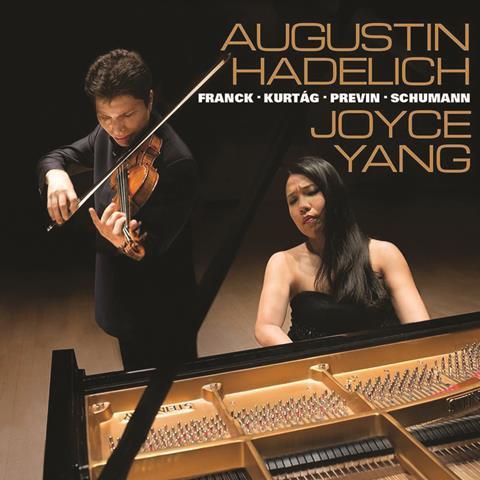 THE STRAD RECOMMENDS
The Strad Issue: February 2017
Description: Two players absorbed in the moment in a mixed violin and piano recital
Musicians: Augustin Hadelich (violin) Joyce Yang (piano)
Composer: Franck, Kurtág, Previn, Schumann
Catalogue number: AVIE AV 2347
Augustin Hadelich's shimmering, silvery tone, chamber-scale intimacy of expression and Kremer-like refusal to take the interpretative easy way out are ideally suited to this stylistically wide-ranging programme. In Schumann's A minor Sonata it is as though a veil has been lifted from the composer's characteristically alto-tenor dominated textures to reveal glistening surfaces of Mendelssohnian sparkle. Rather than wring the last ounce of soaring cantabile out of Schumann's inspired flights of fancy, Hadelich allows the music to unfold naturally, especially in the finale, in which he creates an airy light and shade where others tend to get stuck in a moto-perpetuo groove.
He could hardly wish for a more responsive partner than Joyce Yang, who somehow manages not only to negotiate the notoriously tricky Franck Sonata with seeming indifference to its technical challenges but also finds time to colour its often swirling textures with captivating sensitivity. Hadelich responds with playing that captures the score's heightened sensual awakenings with rare acuity, and is accorded lucid, glowing sound to match.
Turning the coin over, Hadelich and Yang sound so profoundly absorbed in the heady musical atmospheres of Previn's Tango, Song and Dance and Kurtág's Tre Pezzi that one can only sit in misty-eyed amazement at their insightful flair and spontaneity.
Julian Haylock